By Harmeet Shah Singh
CNN





NEW DELHI, India (CNN) -- A pilots' strike forced one of India's largest airlines to cancel most of its domestic flights Wednesday, the airline said.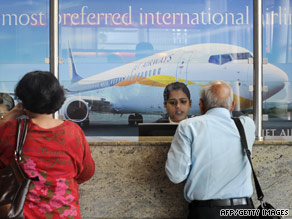 Air travelers wait at the Jet Airways counter at the city airport in Mumbai on Tuesday.
"A majority of our 270-280 [domestic] flights have been canceled," said spokeswoman Ragini Chopra of Jet Airways, which is India's largest carrier by market value.
The airline was operating normally on long-haul international routes, she said.
Since Monday night, more than one-third of Jet Airways pilots had reported sick, in what the company called a simulated strike over their demand for reinstatement of two colleagues fired in August.
The airline fired them for internal conduct, Chopra said without elaborating.
Jet Airways sacked two more pilots Tuesday on disciplinary grounds, she added.
The striking pilots were not immediately available for comment.
"We are open to conversation," Chopra said of the stalemate.

Meanwhile, state-run Air India said it was accommodating Jet Airways' stranded passengers on flights.
On Wednesday, Air India flew the country's cricket team, originally booked on Jet Airways, to a three-nation tournament in Sri Lanka, according to Air India spokesman Jitender Bhargava.
E-mail to a friend

All About India • Business • Transportation