TOKYO, Japan (CNN) -- Unemployment in Japan has hit 5.7 percent in July, the highest on record since World War II.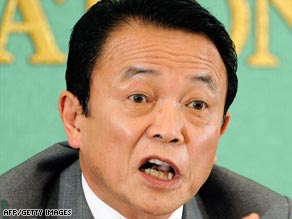 Japan's Prime Minister Taro Aso faces a struggle to retain power in recession's wake.
Joblessness in the world's second-largest economy has been steadily rising from 4.8 percent in March to 5.4 percent in June. The record July number exceeded analyst predictions of 5.5 percent, which would have matched the previous postwar record.
The news comes on the eve of Japanese elections this weekend and could augur the end of rule of the nation's Liberal Democratic Party, which has had an iron grip on Japan's government for most of the last half century.
Japan's core consumer price index fell 2.2 percent, which could heighten deflation concerns.
The unemployment news ends a month of mixed economic news for Japan, which limped out of recession with slight growth in the last quarter. But trade data saw exports decrease in July after posting two months of slight gains.
Data released on Wednesday showed that shipments in July fell 36.5 percent by value year-on-year, outpacing the 35.7 percent decline in June. On a seasonally-adjusted basis, exports fell 1.3 percent from June.
Japan's economy grew 3.7 percent on an annualized basis from April to June this year, the first time the world's second-largest economy has seen positive growth in 15 months. Japan's GDP grew just under 1 percent during the three-month period and trade increased 1.6 percent.
Don't Miss
Japan joined major economies such as Hong Kong, France and Germany by posting slight growth for the second quarter of the year.
The news that Japan -- the hardest hit of the major economies because of its reliance on exports -- had rebounded from recession triggered cautious optimism among economists that the worst of the global recession was over. Net exports, especially in high-tech industries and materials such as chemicals and steel, tentatively led Japan out of recession.

The uptick marked the end of the worst recession in Japan since the end of World War II. Japan's GDP fell at a record pace during the January-March quarter, when GDP was 15.4 percent lower than the same time period last year.
Prime Minister Taro Aso's government had hoped a political as well as economic bounce would result from its historic 15 trillion yen ($150 billion) stimulus package in May, which included unemployment benefits, aid to struggling companies, promotion of green industries and a variety of tax breaks.
E-mail to a friend

CNN's Kyung Lah contributed to this report
All About Liberal Democratic Party of Japan • Democratic Party of Japan • Taro Aso • Unemployment Rate