By Jamil Anderlini






BEIJING, China -- China's surging economy slowed slightly in July as state-controlled banks heeded Beijing's instructions to rein in excessive lending, with the volume of new lending dropping 77 percent from a month earlier.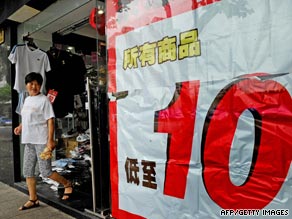 A woman walks out of a store advertising a promotion in Shanghai.
Most economic indicators however suggested a continuing strong recovery, largely as a result of government investment and state-directed lending that saw new loans nearly triple in the first seven months from the same period last year.
Industrial output expanded by 10.8 percent in July from a year before, less than most economists had predicted. Fixed asset investment growth rose 32.9 percent from a year earlier for the first seven months of year, indicating some slowing in July as half-year growth had been 0.7 percentage points higher.
Senior Chinese leaders have repeatedly emphasised their commitment in recent weeks to a "moderately loose" monetary policy but fears of bubbles forming in the property and stock markets prompted the central bank and banking regulators to order banks to slow lending last month.
As a result, new loans in July slowed to RMB 356 billion ($52B), the lowest since last October and down sharply from RMB 1,530 billion in June, according to figures released by the central bank on Tuesday.
This policy of "'backdoor tightening' will be replaced with effective tightening measures authorised by top policy makers when the growth recovery is further confirmed, most likely in the fourth quarter of 2009," according to Goldman Sachs economists Helen Qiao and Yu Song. "We also expect more meaningful tightening measures to be adopted in 2010, after more signs of overheating and inflationary pressures emerge."
Chinese prices continued to fall in July from a year earlier, reducing the likelihood Beijing will make any major changes to its policy of boosting growth with fresh liquidity and surging infrastructure spending.
China's consumer price index fell 1.8 percent while the producer price index was down 8.2 per cent from a year earlier, despite a flood of bank lending and investment in recent months.
Don't Miss
Exports and imports declined in July from a year earlier for the ninth consecutive month, underscoring the need for the government to maintain its domestic investment-led stimulus. Exports were down 23 percent from a year earlier, while imports fell 14.9 percent. Exports though were up a seasonally adjusted 5.2 percent month-on-month, with imports rising 3.5 percent.
Singapore on Tuesday meanwhile revised upward its second-quarter gross domestic product growth rate to an annualised 20.7 percent, up 0.3 points from its preliminary figures, while the Philippines reported its exports rose 10.4 percent in June from May.
While Beijing remains worried about asset price inflation and has increased its use of so-called "window guidance" to the banks, the negative year-on-year CPI and PPI readings provide the government with breathing room to maintain its loose monetary policy, economists said.
"These latest figures mean there will be no near-term change in the government's monetary policy," said Vincent Chan, an economist at Credit Suisse in Hong Kong.
In a recent report, China's central bank forecast CPI would bottom out at the end of the fourth quarter. While prices fell year-on-year in July, CPI was flat from a month earlier, while PPI rose 1 percent from the previous month.
According to official data. retail sales of consumer goods rose 15.2 percent in July from a year earlier, a healthy pace compared to most other economies but still 8.1 percentage points lower than the year-on-year growth in July last year.
E-mail to a friend

© The Financial Times Limited 2009