(CNN) -- Sunshine-seeking travelers whose vacations are spoilt by wet weather will be able to claim compensation under a new scheme introduced by Germany airline Lufthansa in a bid to head off the gray clouds settling over the aviation industry.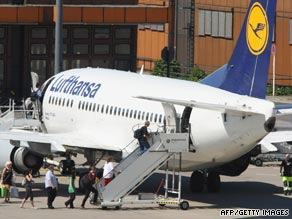 Travelers choosing Lufthansa could pick up compensation for bad weather at their vacation destination.
Under the "sunshine insurance" scheme, passengers who book flights to any of 36 destinations on offer will be entitled to €20 ($28.8) per day up to a maximum of €200 ($288) for every day of rain.
To take advantage of the offer, passengers must book before August 18 to travel in either September or October. They will be entitled to claim for every day in which at least 5mm of rain falls at their destination according to the German weather Web site wetteronline.de.
While many of the destinations on the list are sun-drenched locations on the Mediterranean or in the Middle East, more discerning travelers looking to claim a discount on their trip may choose Bilbao, on Spain's wet and windy northern coast, or U.S. cities including Boston, New York, Philadelphia and Washington DC.

Lufthansa's offer comes less than a week after the airline said it expected to endure a difficult time for the rest of 2009 after reporting an 88 percent drop in second quarter profits to €40 million ($56 million), amid volatile fuel prices and a slump in passenger numbers.
The airline is not the first to offer "sunshine insurance." Last month two French travel agencies, Pierre et Vacances and FranceLoc, offered vacationers a partial refund if they suffered four days of rain in any one week.
E-mail to a friend