(CNN) -- China's main stock exchanged hit its lowest point in eight months on Wednesday, as two large Chinese construction companies began selling shares for the first time in two of the year's biggest entries onto the worldwide market.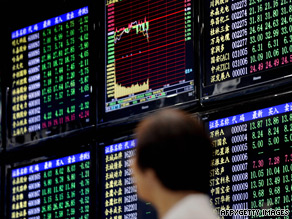 Shanghai's stock exchange took a battering Tuesday, hitting 8-month lows.
After months of gains in contrast to steady downturns elsewhere in the world, Shanghai's Composite Index was down 8 percent at one point before rallying slightly to end the day down 5 percent.
The drop came despite an impressive start for Chine State Construction Engineering which closed with a huge 56.2 percent gain as it made its market debut alongside cement supplier BBMG.
State Construction has already pulled in more than $7 billion dollars in the world's largest initial public offering so far this year.
The company is China's largest housing contractor and built the futuristic Water Cube for the Beijing Olympics. It is also well-known for its other iconic buildings including the futuristic CCTV headquarters in Beijing and the Shanghai World Financial Center, which is China's tallest skyscraper.
Despite State Construction's impressive showing on Wednesday, jittery investors were exercising caution.
Analysts say many fear a bursting of China's economic bubble due to falling commodity prices, negative consumer sentiment and low earnings reports. Some warn the market needs further correction and will continue to fall.
The floatation of BBMG and State Construction follows a 10 month halt to public offerings on Chinese bourses imposed last year that was lifted in late June.
Global interest in China's moves to reopen its IPO market underlines the growing importance of developing economies to world capital markets.

Watch CNN's report on the Chinese IPOs »
Don't Miss
Some of the biggest IPOs this year include the listing in June of VisaNet in Brazil, which raised $4.27 billion on the Sao Paulo stock exchange, and China Zhongwang, which raised $1.2 billion when it listed on the Hong Kong stock exchange in April.
Global investors are looking for good news in the anemic IPO market. Last year, top global IPOs were for credit card processor Visa and China Railway Construction, which raised $19.7 billion and $5.7 billion, respectively.
Although the IPO market in China declined last year with the plunging stock markets, China led the world in IPOs, with 127 deals raising $17.9 billion, according to Ernst & Young.

The Chinese government is easing restrictions on IPOs partly to give companies more access to capital in the wake of the financial crisis and China's stimulus package.
A restart of IPOs is also essential if China wants to position itself as a global financial center, which eventually will mean allowing foreign firms to list on Chinese bourses.
E-mail to a friend

CNN's Eunice Yoon, Emily Chang and Jo Ling Kent contributed to this report
All About Economic Crisis • Financial Markets • Business