(CNN) -- Credit Suisse on Thursday became the latest major bank to report a strong second quarter showing as its net profit rose by 29 percent to 1.57 billion Swiss Francs ($1.41 billion.)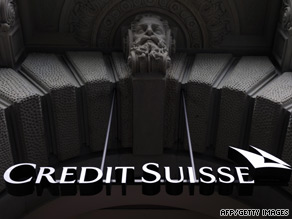 Credit Suisse said it would cut 5,300 jobs last year after a net loss of $2.5B in October and November.
In a statement the Swiss banking giant attributed its performance to a "reduced-risk business model providing the basis for more sustainable, high-quality, lower volatility earning."
Its Investment banking arm, which incurred much of the blame for the bank's record losses last year, weighed in with pre-tax profits of 1.66 billion Swiss Francs ($1.55 billion).
Overall earnings rose by 10 percent to 8.6 billion Swiss Francs ($8.07 billion) from 7.7 billion Swiss Francs ($7.2 billion) a year earlier.
Credit Suisse CEO Brady W. Dougan said: "Our strong second-quarter performance demonstrates that our client-focused, capital-efficient strategy is working very well...We continue to engage in close dialog with regulators around the world and we appreciate the importance of building a more robust and sustainable financial services industry.
"We believe that we are well positioned to benefit from our very strong capital position and our differentiated business model in the evolving industry landscape."
Although the global economic environment is expected to remain challenging, Dougan said he is confident Credit Suisse is positioned to perform well.
"The strength and stability of our integrated global bank is attractive to our clients and shareholders," he said.
Earlier this month, the U.S. banking triumvirate, Citigroup, JPMorgan and Goldman Sachs surprised analysts by delivering multi-billion-dollar profits of their own in the second quarter of 2009.
Citigroup had earned a reputation as one of the America's most troubled financial institutions. From the time the credit markets began to unravel in late 2007 up until the end of last year, the company had lost more than $28 billion.
E-mail to a friend

All About Credit Suisse Group