(CNN) -- Four employees of the world's second-largest mining company were arrested in China on suspicion of espionage and stealing state secrets, after having been detained days earlier, state-run media said Thursday.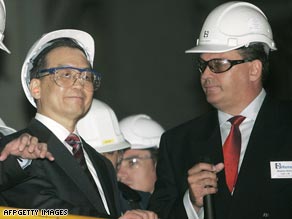 File photo of Chinese Premier Wen Jiabao on a 2006 tour of a Rio Tinto plant in Western Australia.
Four employees of Rio Tinto -- one Australian and three Chinese -- had been held since Sunday, said Australian Foreign Minister Stephen Smith.
Under Chinese law, suspects are officially charged when they are arrested, a distinction from being detained.
Officials with the Ministry of Foreign Affairs offered conflicting information at a news conference, saying the four workers were detained, not arrested.
China's reason for holding Australian Stern Hu "came as a surprise" to the Australian government, Smith said.
Opposition leader Malcolm Turnbull said: "We've raised our concerns with the Chinese Embassy in Canberra. This is a matter of very real concern, and it is completely unacceptable."
A Rio Tinto spokesman also called the charges surprising.

Watch more on the case »
"We are not aware of any evidence that would support such an investigation," spokesman Nick Cobban told CNN. "We will continue to work to support our employees and their families."
Officials at the Chinese government press office in Shanghai were aware of the report but could not confirm the arrests, a spokesman said.
All four are employees at Rio Tinto's Shanghai office, the company said.
Australia's consular agreement with China allows for Australian officials to have access to Hu by Friday, Smith said. Officials have asked that Hu's wife and Rio Tinto officials be allowed to see him, Smith said.
The incident comes after Rio Tinto broke away from a $19.2 billion investment deal with state-owned Chinalco last month.
The deal with Chinalco was signed in February and was awaiting a review by Australia's Foreign Investment Review Board. The deal soured as opposition party members ratcheted disapproval, saying it put Australian resources at strategic risk.
Others saw the deal as an alliance that would further link resource-rich Australia with the commodities-hungry Chinese market.

Smith brushed aside speculation that the detentions were linked to the deal.
"I've seen no evidence and I have no basis for any such speculation," he said. "But I do underline that, when our officials were advised of the reasons for the detention, that came as a surprise to us, as it came as a surprise to Rio Tinto, Mr. Hu's employer."
E-mail to a friend

CNN's Kevin Voigt and Emily Chang in Hong Kong, China, and Kendra Petersen in London, England, contributed to this report.
All About Rio Tinto plc