(CNN) -- IN FOCUS: Jordan's Nuclear Hopes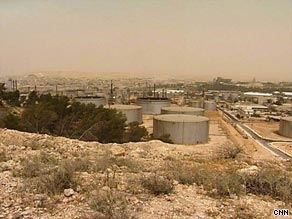 Jordan turns it's attention to nuclear power to overcome its dependency on oil imports.
The Kingdom of Jordan is one of the region's main oil importers, with crude oil accounting for 16 percent of the country's total imports.
Now the Kingdom is looking to remove its reliance on energy imports and become an energy exporter by going nuclear. MME takes a look at Jordan's nuclear ambitions.
FACETIME: Turkey's Mosque Designer
Zeynep Fadilioglu has established a reputation as a designer of nightclubs, bars, hotels and apartments for jet-set clients around the world. But now she is putting her contemporary spin on Istanbul's newest Mosque.
Unlike many Turkish mosques where the women are supposed to pray behind screens with an obstructed view of the stained glass and soaring domes, Fadilioglu says she has designed her mosque with female worshippers in mind. MME takes a look at Istanbul's newest project and the woman behind it.
Watch the show this week at the times below:
Friday: 0915, 1945
Saturday: 0645
Sunday: 0815 (all times GMT)
E-mail to a friend