LONDON, England (CNN) -- The worst of the recession is over, but recovery is not guaranteed, the British Chambers of Commerce said Tuesday.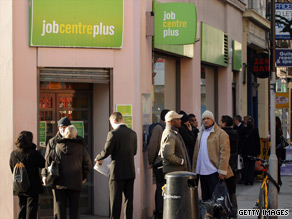 The number of people out of work in the UK has continued to rise despite claims the worst is over.
Results from the second quarter show "welcome progress" in the manufacturing and service sectors, with most key indicators improving, the BCC said. But almost all the critical measures remained in negative territory, and many were weak by historical standards, it said.
"While these results finally point to some good economic news, there is a risk that, without a continued focus on limiting the impact of recession, the economy could drop off suddenly, adding weight to the argument that we are heading towards a W-shaped recession," the BCC said.
It noted that the British government last week released gross domestic product figures that were revised heavily downward from initial estimates.
Taking that into account, the BCC said, "It is far too early to say that recovery is secure."
Don't Miss
BCC Chief Economist David Kern noted "serious downward pressures" persisting across all economic sectors and regions.
"Recovery is now possible, but it is not yet secure," Kern said. "Further corrective measures are still needed to support the economy. The marked improvement in confidence, albeit from exceptionally low levels, is welcome. However, these recent gains can only be sustained if the economy continues to stabilize and the recession ends."
The director-general of the BCC, David Frost, called on the government to reduce taxes and red tape on businesses so they can drive the country out of recession.
GDP figures released last week by Britain's Office of National Statistics showed that Britain's economy shrank by 2.4 percent in the first quarter of the year. That was down from the ONS' initial estimate of 1.9 percent.
E-mail to a friend