By Zoë Robinson
Sustainable Development Manager, Warren Evans






During CNN's "Going Green: Green Light for Business" coverage, we've asked businesses to tell us how they balance the imperative for profit with environmental concerns. Zoë Robinson of Warren Evans explains how the British bed making company is putting its wood waste to work.
Warren Evans is a manufacturer and retailer of high-quality, ethically produced beds and furniture, with four showrooms and a large workshop in London. As the company has expanded, our environmental performance has moved steadily up the business agenda.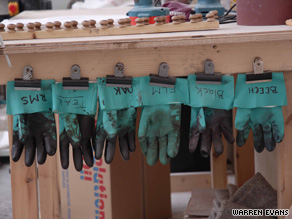 Bed company Warren Evans powers its workshop with a bio-mass boiler fed with the company's own wood waste.
Since starting up in 1979, Warren Evans has always pursued an ethically and environmentally responsible agenda. However, it was when we decided to move our workshop in 2006 that we had an opportunity to really address and improve our environmental performance.
We were able to streamline our manufacturing process, which in turn enabled us to achieve Forest Stewardship Council (FSC) certification, which means that all our wood comes from well-managed sources. We are very proud to be the only FSC certified bed maker in the UK. We installed a bio-mass boiler which keeps our workshop warm and diverts our wood waste from landfill. Our new dust extraction system sucks up all the waste produced and feeds it to the boiler. This all adds up to a significant amount -- two large skips a week!
We also addressed the packaging issue. We don't wrap our products in cardboard or plastic, we use woolly blankets. These blankets protect our wooden products much better than cardboard or plastic, which has reduced the number of products damaged in transit. We reuse these blankets hundreds of times. Any mattress packaging is taken from the customer's house and recycled.
Don't Miss
We were able to bring in new spraying equipment, which reduced our lacquer usage by 21 percent and now we use two coats instead of three, which also reduces the labor required.
The whole project had a huge impact on our environmental performance and also won us a Business Commitment to the Environment Award.
As well as the practical environmental issues we tackled, we also looked at our company ethics. We have been running a profit-sharing scheme for employees since 2001 and we wanted to expand on that. We are now supporting an orphanage in India and we are currently setting up a scheme to allow our staff paid time off to volunteer and fund-raise for the homeless charity Shelter. We are providing free beds and mattresses to newly re-housed Big Issue vendors, through The Big Issue Foundation. We feel it is important to remember and support those who don't have a warm bed or a roof over their heads.
Going Green
A half-hour special investigating the balance between business and the environment


We have managed to achieve all this without putting our prices up, which we are very proud of. Many green and ethical products carry a price premium and not everyone is willing to pay that, so we are very happy to be able to offer a price conscious, ethical range. It means that our customers get a green bed, whether they want one or not! We have achieved this through the efficiency savings we have made, which has brought our operating costs down, despite price rises from our suppliers and the investment required for the new workshop.

Warren Evans has done very well by taking the initiative and addressing these issues. We have managed to stay ahead of the competition and we have won many awards. These awards have helped us a lot by validating our claims and proving to our customers that we are not guilty of green wash.
I am aware that not all companies are as keen as we were to bring environmental issues to the forefront. I have been very lucky to have senior management support from the beginning. I would advise anyone at the beginning of this process to focus on initiatives that will save their company money. This makes it much easier to get senior management support. If you can get the finance director on your side, you've won half the battle! It is also important that the person in charge believes in the environmental message they are pushing -- if they don't believe in it, they won't convince anyone to change.
E-mail to a friend