(CNN) -- In focus: Iraq Oil Contracts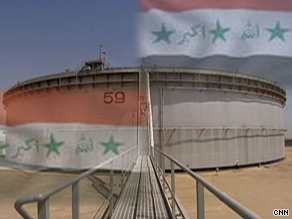 Iraq's oil -- which foreign company will make the winning bid?
As U.S. Forces leave Iraq, the country prepares to welcome new foreign investors. For the first time in more than thirty years, Iraq opens up its energy sector to foreign companies. Top energy corporations bid on 20 year contracts to develop six of Iraq's underdeveloped oil fields.
MME takes a look at the possible winners of the bidding process who are hoping to be awarded contracts.
Facetime: Taking on the Pharmaceutical Giants -- Hikma
In the pharmaceutical Industry, GlaxoSmithKline, Novartis and Pfizer are the leading names which have dominated the Arab market. Now a family run Jordanian company -- Hikma Pharmaceutical is taking them on. With licenses in the U.S., Europe and the Middle East, the small Jordanian company has moved to top in terms of marketshare.
MME takes a look at the growing competition from the Jordanian company and speaks to the key men behind its success.
Watch the show this week at the times below:
Friday: 0915, 1945
Saturday: 0645
Sunday: 0815 (all times GMT)
E-mail to a friend