By Kevin Voigt
CNN





HONG KONG, China (CNN) -- China's last-minute decision to postpone a controversial content-filtering application on computers sold there is the latest example of the trouble that Western technology companies face doing business in the world's fastest-growing economy.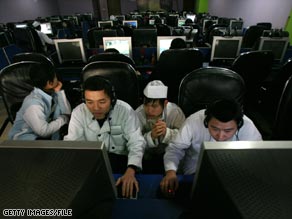 Businesses and Chinese 'netizens' are up in arms about China's Web filtering computer plan.
Businesses and Chinese computer users are up in arms about the Web filtering plan -- ostensibly meant to protect young online users from pornography, but criticized for leaving businesses vulnerable to cyber attacks.
The "Green Dam Youth Escort" software application unleashed a flood of complaints toward Beijing, making strange bedfellows of human rights groups such as Amnesty International, Chinese computer users and trade groups representing the largest international businesses in China.
The trade groups made a rare public appeal to Premier Wen Jiabao to rethink the new rule.
A letter was sent directly to Wen on June 26 and signed by an international group of more than 20 business associations, including the Business Software Alliance, the Consumer Electronics Association and the U.S. and EU chambers of commerce.
The software requirement "raises serious concerns for us and poses significant questions in relation to security, privacy, system reliability, the free flow of information and user choice," the EU Chamber of Commerce said in a statement.
Companies such as Intel, Microsoft and Yahoo built their business on transparency and free flow of information. Yet for all the capitalistic reforms since 1979, public information in China is still tightly controlled and government decision-making is opaque.
At stake is a market of about 300 million Internet users, according to the China Internet Network Information Center.
"I think we fully understand the intentions of the government, wanting to protect children against pornography," said Zhang Ying, vice president of Analysys International, a technology market research company based in Beijing.
"On the other hand, of course, there are some aspects the government should try to improve," Zhang added. "First of all (the government) should try to make the decision-making process more transparent -- why this software and not others? What criteria were used to decide?"
Green Dam is produced by Jinhui Computer System Engineering Co., which is said to have ties to China's military and security ministry. Zhang Chenmin, general manager of Jinhui, told the state-run news agency Xinhua that his company had received more than 1,000 harassing calls and death threats since news of the requirement and Jinhui's role were first reported in The Wall Street Journal last month.
"I got a call last night, threatening to kill my child and my wife," Zhang told Xinhua in a June 24 story.
Besides angry Chinese computer users, Jinhui faces accusations from California software maker Solid Oak that Green Dam copies code from its Cybersitter software for parental Internet-access control. Jinhui has denied the claim.
Corporations, typically reticent to publicly squabble with Beijing, are drawing a line on Green Dam because the software "is buggy. ... It's ineffective for its advertised purpose" of filtering pornography, but also can be easily manipulated so computers can be remotely accessed by unknown third parties, said Thomas Parenty, an IT security consultant in China and a former U.S. National Security Agency programmer.
For businesses, that's like leaving the doors open overnight and hoping their office isn't robbed, Parenty said.
"From a corporate perspective, you can't run a business like that. Corporations have a fiduciary responsibility to protect their assets, not just physical, but also digital," he said. "They have responsibilities to protect employee data, customer data, financial data and R&D information.
"From a business standpoint, it forces companies to sell products with a feature their customers don't want and didn't ask for. ... That's a very bitter pill to swallow," he said. "What is the benefit for businesses to have censoring ability on their computers? There are no children there to be protected."
Criticism of the new policy has been rampant, abroad, at home and even on China's own state-run media, a sign that officials may disagree about it internally.
"I think the Chinese government knows well that it was just plain bad business sense," said Charles Mok, chairman of the Internet Society of Hong Kong. "I think it was an isolated decision by the MIIT (China's Ministry of Industry and Information Technology), rather than the national security ministry or other agency."
The software dispute is the latest in a line of controversies between Western companies and the Chinese government.
In 2000, the government backed down on laws restricting importation of encryption software that would have banned Web browsers such as Microsoft Explorer, which include encryption functions.
In 2004, the government backed down on developing its own wireless Internet standard when Intel threatened to ban sale of its chips in China as a result.
More recently, Web browsing companies have had a complicated relationship with Chinese censors.
Early last month, Google blocked search results for Tiananmen Square in China. In late June, it was reported that Google service in China was interrupted after government claims that it was contaminating the country with pornography. In 2005, Yahoo released user information that led to the arrest and 10-year sentence of a Chinese journalist.
Technology companies say they are obeying local laws concerning Internet use in China, but the companies have been criticized by members of the U.S. Congress for bowing to pressure from Beijing.
Speaking to shareholders at the Yahoo annual meeting last week, CEO Carol Bartz was questioned about the company's policies in China in light of Green Dam and other controversies.

"We made a mistake, and you can't hold us up as the bad boy forever," she said, referring to the release of information that led to the arrest of the journalist.
"It's not our job to fix the Chinese government. It's that simple," she said.
E-mail to a friend

CNN's Emily Chang contributed to this report
All About China • Internet • Censorship