By Tom Peck
CNN





LONDON, England (CNN) -- For thousands of Michael Jackson fans the news of the singer's death will be made even sadder by the fact they were looking forward to seeing him perform at London's O2 Arena.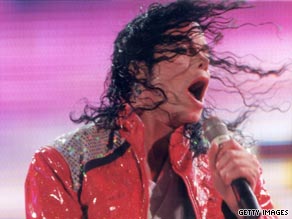 Jackson performed at Wembley in 1988 as part of his "Bad" tour.
Around 750,000 tickets for the 50-date show sold out within hours of going on sale in March. It was due to open next month and run until early next year.
Now it is unclear whether fans will be offered a full refund.
However, many Friday called for the concert to go ahead as a tribute to their idol.
Angel7, from South Africa, wrote on a Michael Jackson discussion board: "I do not want my ticket money back. I'd rather have the concert continue with the proceeds going to his children."
She then called for a worldwide petition to make it happen.
Julia J wrote on Yahoo that she was "devastated" after expecting to see him in August but added that "a big tribute show for all the dates he had down to do concerts would be a great way to remember him."
Dave R from London also wrote on Yahoo that he had bought his ticket "for the chance to stand in an arena bursting with 19,999 other fans singing, dancing, cheering and screaming for each hit."
Don't Miss
"I'd seize the opportunity to see that dream using videos, the same sets and dancers to create a wonderful show in tribute to the greatest showman of them all."
Many discussed which acts might appear at such a concert, touting Beyonce, Madonna, Mariah Carey, Elton John and Justin Timberlake. That the above would commit to such a time-consuming and grueling 50-show schedule seems unlikely.
Briton Teresa Matthews said that "the remaining members of the Jackson 5 could do the Tribute concert for their brother and, perhaps, have Janet sing the lead?"
For many, however, a tribute concert would be an inadequate replacement.
Another Briton, Vish, pointed out that many fans had paid more then $1,600 for tickets and that "nothing will be the same as seeing MJ perform himself."
Kiwi Marc added: "I do not want to see a tribute. I bought tickets to see the King, not a pauper."
It's unclear whether AEG Live, the company behind Michael Jackson's 50 nights at the O2 Arena, would be in favor of such a tribute or be able to organize it at such short notice.

O2 said in statement given to CNN that "at this moment our thoughts are with Michael's children, family and friends. We will announce ticketing details in due course."
What is clear however is that currently they face a liability of up to $500 million and an empty stage for the next nine months.
E-mail to a friend

All About Michael Jackson