LONDON, England (CNN) -- Ericsson boss Carl-Henric Svanberg has been unveiled as energy giant BP's new chairman, replacing Peter Sutherland.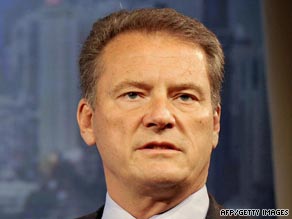 Carl-Henric Svanberg says being asked to lead BP is a "great privilege."
BP said Svanberg, who is Ericsson's chief executive and also chairman of Sony Ericsson and a non-executive director of Melker Schörling AB, would join the board as chairman designate on September 1.
He would take over fully from Sutherland on January 1 next year, ending his seven-year tenure at Ericsson.
Svanberg, 57, who will move from Sweden to London, said BP was a world leader in the energy sector.
"It's a great privilege to be invited to lead its board. Following such a distinguished predecessor is quite a challenge but I'm hugely excited about joining the energy industry which is so much at the heart of the global economy. I look forward to it with relish."
BP chief executive Tony Hayward paid tribute to Sutherland.
Don't Miss
"[He] has been an outstanding chairman, guiding the company through one of the most successful periods in its history. He will be a hard act to follow.
"But I am sure Carl-Henric will be a worthy successor. He is a businessman of international stature who is recognized for his transformation of Ericsson. Our shared views on many aspects of global business give me great confidence that we will work very effectively together on the next phase of BP's progress."
Svanberg arrives at BP as the energy sector continues to experience bumpy times.
In the course of a year the oil price has gone from $147 a barrel to near $30 only to rebound again in recent months to $68.
The path ahead for the energy sector remains far from clear with some analysts fearful a "double-dip" recession will keep the price low, while others worry a resurgent world economy could push the price as high as $250 a barrel.
In April BP announced that its first quarter had fallen by 62 percent.
BP said its replacement cost profit -- an oil industry measure of profitability -- was $2.4 billion, compared with $6.2 billion a year ago. The decline was blamed on falling oil prices
E-mail to a friend