(CNN) -- U.S. investment management firm BlackRock has agreed to purchase Barclays Global Investors from British bank Barclays for $13.5 billion, a deal which would create one of the world's largest financial management firms.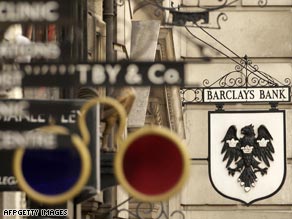 British bank Barclays has received an offer to sell its exchange-traded fund business to BlackRock.
Both firms released statements confirming the offer, which would bring together market leaders to create, according to BlackRock, the preeminent investment firm operating under the name BlackRock Global Investors.
Under the deal, Barclays would get 37.8 million new BlackRock shares and $6.6 billion of cash, both companies said.
Combined assets for the combined firm would be over $2.7 trillion with more than 9,000 employees in 24 countries, BlackRock said in a media release on its Web site Thursday.
The deal, expected to close in the fourth quarter, would include BGI's exchange-traded fund platform iShares and would give Barclays 19.9 percent economic interest in BlackRock, according to BlackRock. The deal is subject to approval by Barclays' shareholders and regulatory approvals, BlackRock said.
BGI's CEO Blake Grossman will serve as vice chairman of the combined firm, said Laurence Fink, BlackRock Chairman and CEO.
BlackRock, best known for its bond management business, has weathered the financial crisis better than most firms. The New York-based company currently has $1.5 trillion under management, down only 6 percent compared to last year.
Barclays agreed in April to sell its iShares business, which accounts for half the ETF business in the United States, to CVC Capital Partners Group in April for $4.4 billion, but with a proviso it could shop around for other bidders before finalizing the deal.
CVC has until Thursday 18 to match the BlackRock offer, Barclays said.
E-mail to a friend

CNN's Elizabeth Yuan contributed to this report.