(CNN) -- FACETIME: Riad Salamé, Governor, Central Bank of Lebanon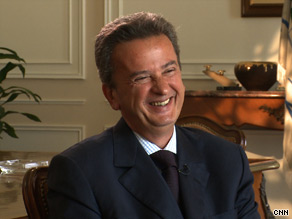 Riad Salamé, Governor of the Central Bank of Lebanon says a cautious stance has reaped rewards
While growth in the Middle East is expected to fall by half, Lebanon is expanding. Cautious policies and strict regulations have meant that the country has avoided the brunt of the downturn.
This week MME speaks to the man behind Lebanon's economic success, Central Bank Governor, Riad Salamé and how banking on a guarded approach really paid off.
IN FOCUS: Investing in Iran
As Iranians go to the polls, one of the main issues will be the economy. With vast energy reserves, an educated population and 62% under the age of 30 the potential of Iran is starting to encourage investors. MME takes a look at the opportunities in Iran with a boutique investment bank that has already tapped into what's on offer.
Watch the show this week at the times below:
Friday: 0915, 1945
Saturday: 0645
Sunday: 0815 (all times GMT)
E-mail to a friend