By Mark Tutton
For CNN





LONDON, England (CNN) -- "Above all, do no harm." That phrase is attributed to the Hippocratic Oath, the ancient physicians' pledge that's made in a modernized form by many of today's graduating doctors.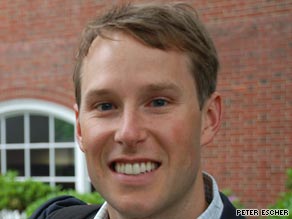 Peter Escher, one of the Harvard Business School students behind the MBA Oath.
In the wake of the banking crisis, Wall Street's travails and the Enron scandal, some have been asking if it might be time for business people to make a similar oath. Last week a group of MBA students at Harvard Business School (HBS) took it upon themselves to do just that.
The "MBA Oath" was dreamed up by a group of around 30 students in the second year of their MBA studies. Among the ethical pledges included in the voluntary oath is one that states "I will safeguard the interests of my shareholders, co-workers, customers and the society in which we operate."
It's that emphasis on the interests of their co-workers, customers and society itself that could mark a change in the way MBAs view their wider role.

Read the MBA Oath in full. »
Peter Escher, 29, graduated from HBS last Thursday. He is one of the students behind the oath. "We were thinking about how to respond to the financial crisis taking place around us and some of the accusations about how HBS was preparing MBAs for the ethical dilemmas taking place in the business world," he told CNN.
Don't Miss
Escher is referring to accusations leveled at business schools that they are failing to produce ethically accountable graduates.
The uncomfortable fact is that many of the business leaders who played a part in the current financial crisis are MBAs. Jeffrey Skilling, the disgraced former CEO of Enron, earned his MBA at HBS.
The HBS students wanted to create a voluntary pledge that would deliberately echo the Hippocratic Oath as a step towards presenting management as a profession with its own code of conduct.
They shared the idea with two of their professors, Rakesh Khurana and Nitin Nohria, and found that the ethos of management-as-profession had been a founding concept of the first MBA course at HBS in 1908.
It's an idea that seems to have been forgotten in the business world in favor of pursuing bigger profits and securing juicy bonuses. But Escher says that the economic crisis has made the subject a hot topic for current MBAs.
Jeremy Moon is the director of the International Center for Corporate Social Responsibility at Nottingham University Business School, in England. He says there are signs that MBA students are becoming more interested in corporate social responsibility (CSR), with some 45% of the MBA students at Nottingham choosing to take at least one CSR module.
"With the economic downturn students have seen business irresponsibility in the finance and housing sectors and there is more awareness that irresponsibility has a wider impact," Moon told CNN.
He is not convinced there is a big change in how students regard business ethics, but he thinks there is a generational change in terms of students understanding sustainability issues.
But he cautions that while it is positive that students feel they should signal their intent to be socially responsible, an oath alone is not enough. Moon stresses that business schools must provide substantial training and awareness in this area.
Fact Box
FT MBA Rankings
1. London Business School, U.K.
2. Wharton, U.S.
3. Harvard, U.S.
4. Columbia, U.S.
5. Insead, France/Singapore
6. Stanford GSB, U.S.
6. IE Business School, Spain
8. Ceibs, China
9. MIT Sloan, U.S.
10. NYU, Stern, U.S.
Source: Financial Times 2009

In some quarters the MBA Oath has been met with accusations of naivety. The argument is that students' good intentions won't last long in the real world, but that's a danger the students are well aware of.

To help keep them on the righteous path, oath-takers are given a pledge card as a tangible reminder of their vows. While a card alone may not be enough to keep them from temptation, there are plans to use the MBA Oath web site as a support network -- a way for the oath community to discuss workplace issues and keep each other accountable.

There are even moves to take the pledge beyond MBA students and involve MBAs currently working in business. Escher says the oath is already generating interest from practicing managers.

The online oath has so far attracted 750 signatures, including HBS alumni and MBA students from other business schools.

"Business has a role in serving society and making the world a better place," Escher told CNN.

That may seem an idealistic view but before starting his MBA Escher spent two years working with a non-profit organization in Kenya and three years with a private equity firm. He has sampled the "real world" and believes that in the long term, taking the oath is compatible with making a profit.
"Treating people well and thinking about the long term makes for good business."
E-mail to a friend