(CNN) -- U.S. investment firm BlackRock is in talks to purchase Barclays Global Investors from British bank Barclays, a deal which would create one of the world's largest financial management firms.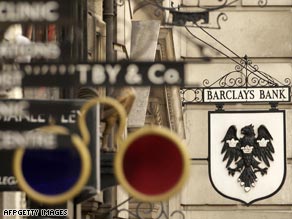 British bank Barclays is in discussion to sell its exchange-traded fund business to BlackRock.
Both firms released statement confirming both sides are in talks. "The negotiations are ongoing and there is no certainty that any transaction will be agreed upon," read a statement on BlackRock's Web site.
The value of the deal could reach $13 billion, according to published reports.
BlackRock, best known for its bond management business, has weathered the financial crisis better than most firms. The New York-based company currently has $1.5 trillion under management, down only 6 percent compared to last year.
If the deal goes through, BlackRock's total assets under management could nearly double.
Barclays agreed in April to sell its iShares business, which accounts for half the exchange-traded fund business in the United States, to CVC Capital Partners Group in April for $4.4 billion, but with a proviso it could shop around for other bidders before finalizing the deal.
Barclays confirmed "a number of parties" including BlackRock are interested.
"Barclays will update the market further upon the conclusion of the `go-shop' process it agreed with CVC and in any event no later than 19 June 2009," according to a Barclays statement.
The Barclays deal would include both iShares and Barclays Global Investors.
E-mail to a friend