(CNN) -- Under-fire Citibank CEO Vikram Pandit, who has said he will pay himself just $1 a year until the U.S. financial giant returns to profitability, has rejected calls for his resignation and vowed to get on with the job.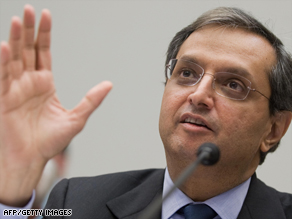 Pandit: "From day one I have held myself accountable for restoring Citi to its right place."
In an exclusive interview with CNN, Pandit said the beleaguered bank, which has received $45 billion in government bailout money, was on its way to financial recovery.
"I have a job to do and I have not finished it," said Pandit.
"We have gone through enormous change at Citi. The management team was brought in during the crisis to clean up what happened with the crisis and our leadership team has done a wonderful job.
"We have made a lot of progress in a very short period of time. We have restored financial strength, we have restructured Citi. There is still a lot of work to do but we have a clear strategy and a clear focus on the future."
Citi has been among the banks hardest hit by the global financial crisis, slumping to a $27 billion loss in 2008 due to its exposure to bad bets on mortgages and complex debt which also wiped 77 percent off the value of Citi stock.
Pandit, who was named "one of the worst CEOs" in U.S. business history in a recent edition of Conde Nast Portfolio magazine, said he held himself accountable for restoring Citi's fortunes, adding that he had inherited many of the problems faced by the bank when he was appointed CEO in December 2007. Should all banking bosses have their salaries slashed? Sound Off below
"From day one I have held myself accountable for restoring Citi to its right place and for getting Citi through this crisis that we are in," he told CNN, adding that measures such as selling off businesses and risky assets and cutting costs by 25 percent had returned Citi to "modest profit" in the first quarter.
Asked whether he believed he had the full confidence of the U.S. government amid reports that federal regulators are looking to replace him, Pandit said speculation was "only natural" given the extent of Citi's recent losses, but added "that doesn't make it right."
In a statement issued on Friday, Citi chairman Dick Parsons said the company was "confident in our management."

Pandit also said the bank was committed to paying back the bailout money it had received under the Troubled Asset Relief Program (TARP) and would pay an annual dividend of $3.4 billion to the government in return for the funds.
"We are thankful for the help we have received and our goal is to repay every dollar as fast as possible with a great rate of return," he said.
E-mail to a friend