(CNN) -- Irish low-cost airline Ryanair posted a €169 million ($240 million) loss in the last year after being hit with higher fuel costs and a writedown in its investment in rival carrier Aer Lingus.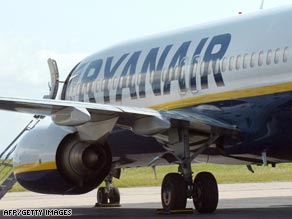 Ryanair has forecast a rise in passenger numbers this year.
Ryanair's boss Michael O'Leary said though that he hoped to see a recovery this year, forecasting profits to "at least double" thanks to anticipated lower fuel costs. The loss compares with a profit of €390 million the previous year.
The company said that with the writedown on the Aer Lingus stake stripped out, its figures showed a more "robust" net profit of €105 million.
The number of passengers travelling on Ryanair planes increased by 15 percent in 2008/09 to 58 million and the airline said it hoped to increase that number to 67 million this year by cutting average fares by upt to 20 percent.
Richard Hunter, head of UK equities at Hargreaves Lansdown Stockbrokers, said the Aer Lingus stake was "an albatross around the company's neck."
He told the Press Association: "There are, however, also a number of positives, not least of which is the determination of Ryanair to continue to make life uncomfortable for its competitors.
"Growth in passenger numbers and a focus on costs were proof that the company has a close eye on strategic wins, while further reductions in fares could well tempt travellers who are currently deserting other legacy carriers."
E-mail to a friend