By Mark Tutton
For CNN





LONDON, England (CNN) -- With the economy still in turmoil, job security is a concern for many. Executive Education talked to three experts to find out what steps you can take to recession-proof your career.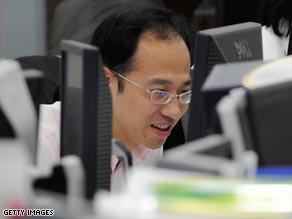 In a cutthroat job market it's crucial to maintain a competitive edge.
Marie Taillard is assistant professor in marketing at the ESCP Europe management school, Caroline Diarte-Edwards is Director of admissions, marketing and financial aid for the MBA Program at Insead graduate business school, and Wendy S. Enelow is an author, trainer and career consultant whose books include "Best resumes for $100,000 + Jobs."
Here's what they had to say:
1 -- Go back to basics. Keep your skills sharp in all the core disciplines, whether it's HR management, marketing or finance. Keep yourself up to date with the latest thinking and trends.
2 -- Now is the time to network. Taillard says that in times of economic uncertainty, networking is an area that is often neglected. "People have trouble going to events where there is networking and getting their names out, but now is not the time to give up on networking," she says.
3 -- Network smart. The Internet offers great networking opportunities, but work out which are suitable for you. "Be appropriate with your online networking," says Enelow. "Facebook and Twitter might be appropriate for young professionals but for older professionals with years of experience, LinkedIn is probably the only online networking tool you need, unless you work in the high-tech industries."
Don't Miss
4 -- Be flexible. The days of "a job for life" are long gone. In times of recession not even the biggest companies are a safe bet, so it's important to be adaptable and keep an open mind about what career paths are open to you.
5 -- Broaden your horizons. If there are lean pickings in your domestic job market, look overseas. "It can be a great time to look at what opportunities there might be in another job market, where you can leverage your skills and gain a different cultural perspective," says Diarte-Edwards.

See which industries the experts identified as being most "recession proof." »
6 -- Choose wisely. If you're considering changing profession or industry focus your search on industries that are on the up or those that tend to be robust during recessions. A job in finance is clearly not a safe bet at the moment, while the energy and healthcare industries are hardy perennials. "We'll always have to go to the doc, go to the grocery store and turn on the lights," says Enelow.
Fact Box
FT MBA Rankings
1. London Business School, U.K.
2. Wharton, U.S.
3. Harvard, U.S.
4. Columbia, U.S.
5. Insead, France/Singapore
6. Stanford GSB, U.S.
6. IE Business School, Spain
8. Ceibs, China
9. MIT Sloan, U.S.
10. NYU, Stern, U.S.
Source: Financial Times 2009

7 -- Sell yourself. If you're looking to change job, then it's time to dust off your resume. Enelow says, "Resume writing is all about creating the perception that you want someone to have about you. It's about writing to the future rather than rehashing the past." She recommends targeting your job search, rather than posting your resume all over the Internet.

8 -- Back to school. In a cutthroat job market it's crucial to maintain a competitive edge. Taillard says that ESCP Europe's courses in problem solving and communication skills are proving popular in the current economic downturn. Equally, if you have been made redundant or don't currently have promotion opportunities, it could be the ideal time to invest in your education.

9 -- You're the boss. If you can't rely on your employers to keep you in a job, create your own. Working as a consultant can give you much greater control over your career and doesn't leave you at the mercy of your employer's fortunes.
10 -- Don't panic. Keep a long-term perspective. "In times of economic crisis, when you're worried about the short term, it can be hard to think about the longer term but remember that your career will last several decades, so try to take the long view," says Diarte-Edwards.
E-mail to a friend