(CNN) -- Germany has agreed to a deal allowing Canadian car parts maker Magna International to take over Opel, news reports said early Saturday.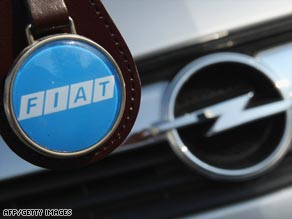 Italian carmaker Fiat is one of two parties in talks with the German government to purchase Opel.
The German government confirmed a financing plan that would help the European division of General Motors avoid insolvency, Bloomberg news service reported on its Web site.
In exchange for Magna investing in Opel, the German government will provide a $2.1 billion bridge loan to GM to keep Opel in business, Finance Minister Peer Steinbrueck said in the Bloomberg report.
The reports followed all-night talks aimed at rescuing the German carmaker Opel.
Representatives from GM Europe and the Canadian-Austrian supplier Magna met while officials of the German government, which is sponsoring the talks, held separate discussions on the matter.
Financially strapped General Motors is Opel's parent company. General Motors is expected to declare bankruptcy as soon as Monday.
Magma's offer has been backed by Russian capital from Sberbank.
Don't Miss
Earlier Friday, Italian car giant Fiat pulled out of talks on the future of Opel, saying it was unwilling to provide the kind of emergency funding the German government was seeking.
The Italian carmaker, based in Turin, said it was still interested in investing in Opel and was "committed to continue discussions with all parties." However, the sources indicated Friday night that Fiat was no longer a contender.
Talks Wednesday night ended without a deal because of a last-minute request from GM for an extra $417 million in short-term financing for Opel. The German government had to ask Fiat and Magna to rework their bids to come up with the money.
German officials have said that if no qualified investor is found, the government is prepared to allow Opel fall into insolvency.
Any bidder for Opel would also be buying GM's European operations. That means the outcome of the talks would have a direct impact on GM's other operations across the continent, including plants in Europe and the Vauxhall car brand in Britain.
There are about 56,000 workers for General Motors in Europe, of whom 25,000 are employed by Opel in Germany. Both bidders have mentioned cutting 10,000 jobs across Europe, without about 2,000 jobs at stake in Germany.

Germany is handling the talks because the German government has offered billions in loan guarantees to any potential investor -- more money than any other European government.
That has angered other countries with a GM stake, who complain they don't want one country -- Germany -- to decide things for everyone else.
E-mail to a friend

CNN's Diana Magnay and Fred Pleitgen contributed to this report.
All About General Motors Corporation • Germany