LONDON, England (CNN) -- The first step to securing a good business education is, of course, finding the right school. But as the financial crisis deepens, the temptation may be to eschew tried and trusted big name colleges in favor of cheaper unknown quantities.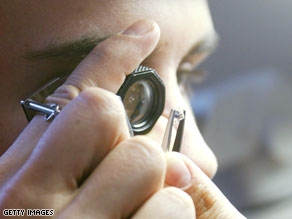 Careful scrutiny is needed to make sure some MBA schools make the grade.
While there are undoubtedly good value courses to be found, the lower end of the market is, however, a minefield of quality where dubious teaching practices, lack of accreditation and bogus qualifications could leave students with little more than an expensive first lesson in how not to succeed.
It is hard to believe that potential MBA students, who presumably intend to build a career capitalizing on their natural business savvy, could fall at the first hurdle, but industry experts say there is a problem.
"Walk round the streets of a city like London and you'll see MBA programs on offer everywhere, tucked away above places like tobacconist shops," Mark Stoddard, accreditation projects manager for education standards body the Association of MBAs, told CNN.
"Many are offering degree-level qualifications, but while some of these may actually be degrees, they don't meet standards."
Says Stoddard, whose job involves visiting many of these schools and checking whether they make the grade, the economic downturn may be driving more students through the doors of unscrupulous operators.
And he warns, even those that do offer an actual qualification allowing students to affix those all-important letters after their name, could still be selling duds.
"Some people are under the impression that getting an MBA is enough, but employers are more interested in where it came from. There is no value of going for a cheap MBA of no standing.
"That is not to say they are all expensive, accredited programs are offered at a range of prices, and accreditation helps to ensure that they all offer good value."
Complicating matters is the number of Web sites brazenly offering fake diplomas to fraudsters who have no intention of seeking genuine qualification. Many employers now, understandably, have their guard up against suspicious-looking resumes.
The key to avoiding these pitfalls is to check accreditation, although with no single regulating body, this is by no means simple.
The Association of MBAs covers 70 countries worldwide, increasingly in areas like China and India. Elsewhere in Europe, the European Foundation for Management Development awards schools that meet its standards with membership of EQUIS -- the European Quality Improvement System.
Overlapping both of these, to some extent, is the Association to Advance Collegiate Schools of Business, which covers most of the world, including many of the major North American institutions.
Fact Box
FT MBA Rankings
1. London Business School, U.K.
2. Wharton, U.S.
3. Harvard, U.S.
4. Columbia, U.S.
5. Insead, France/Singapore
6. Stanford GSB, U.S.
6. IE Business School, Spain
8. Ceibs, China
9. MIT Sloan, U.S.
10. NYU, Stern, U.S.
Source: Financial Times 2009

Despite the confusion, Stoddard says most students should be able to check the credibility of their qualification with some straightforward research, which isn't hard given that the big three accreditors list their recognized affiliates on the Web.

Other simple measures could include, checking with potential employers whether they would look favorably on a qualification from a particular school, attending open days and speaking to existing students -- and bearing in mind the golden rule of avoiding scams: If it looks too good to be true, it is.

However, says Stoddard, with the popularity of business courses burgeoning in many parts of the world where the sector is still in its relative infancy, there are unfortunately still rich pickings for unethical educators.

"It is more of a problem in other parts of the world where there is not a great culture of regulation of the education system. I'm doing a lot of work in India and they are very new to accreditation," he adds.

E-mail to a friend