(CNN) -- British oil giant BP announced Tuesday that its profits for the first quarter of 2009 have fallen by 62 percent.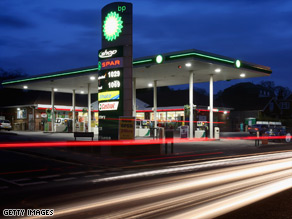 The dramatic fall in oil prices last year -- after they reached a record high -- hit BP's profits.
In a statement on its Web site, BP said its replacement cost profit -- an oil industry measure of profitability -- was $2.4 billion, compared with $6.2 billion a year ago.
The decline was blamed on falling oil prices, which have dropped to around $41 a barrel from July's record high of $147 a barrel.
However, Tuesday's results were ahead of analysts' forecasts for profit of $2.28 billion, the Times reported.
Investment costs for the first quarter amounted to $4.6 billion, with total capital expenditure, excluding acquisitions and asset exchanges, expected to be less than $20 billion for the year.
The oil giant also said it would increase its dividend payout by 4 percent to 14 cents per share for the first quarter. In sterling terms, its dividend is up by 40 percent.
BP shares rose by 1.1 per cent in early trading.
E-mail to a friend

All About BP plc • Oil Prices