LONDON, England (CNN) -- Travel share values tumbled in markets around the world Monday, amid fears that the outbreak of swine flu in Mexico could turn into a global pandemic.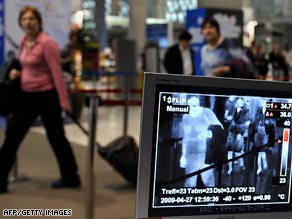 Officers check arrivals at Bangkok's main international airport as travel shares are hit by the swine flu outbreak.
However pharmaceutical and medical shares rallied, helping to save markets from big losses.
The FTSE in London, the Paris CAC 40 and Frankfurt's Dax 30 were all near even at the close, as was Wall Street's blue chip Dow and the tech heavy Nasdaq.
British Airways and Lufthansa shares were down 7.3 and 9.25 percent respectively, while cruise company Carnival was down 6.8 per cent and Thomas Cook 4.4 percent.
Travel agent Tui saw its shares drop by nearly 3.3 percent, while easyJet was 4.47 percent down and InterContinental Hotels Group was off 4.2 percent.
However, shares in drugs company surged. Roche had risen by 3.5 percent, GlaxoSmithKline 5.77 percent, AstraZeneca 3.7 percent and Sanofi-Aventis 2.4 percent.
Don't Miss
Earlier shares in Asia had ended the day mixed. The Nikkei in Tokyo closed up 0.2 percent and Sydney's All-Ordinaries was up 0.6 percent. But the Hang Seng in Hong Kong fell by 2.7 percent and Seoul's KOSPI fell by 1.1 percent.
The swings in travel and medical stocks came amid fears that the Mexican economy will also fall victim to the outbreak.
China has already banned pork imports from Mexico, and from California, Kansas and Texas. Meanwhile Russia has banned all meat imports from Mexico and the southern United States.
On Sunday World Bank President Robert B. Zoellick said that it would give more than $205 million to Mexico to tackle the crisis.
Zoellick said in a statement on the bank's Web site that it would also advise Mexico with lessons learned from other governments during outbreaks of SARS and avian flu.
"Part of what we're doing is also connecting Mexico with other governments that have had this issue," Zoellick said.
"When a government gets hit by this, it moves fast. The best thing you can do is talk to somebody else who has been through this crisis"
The bank said in a statement that funds would be fast-tracked to be released within three to five weeks.
E-mail to a friend