(CNN) -- MySpace CEO Chris DeWolfe will step down as head of the Internet company he helped found about six years ago, MySpace owner News Corporation announced Wednesday.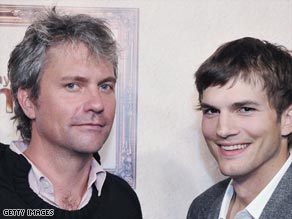 MySpace co-founder (left, with Ashton Kutcher) Chris DeWolfe is stepping down.
DeWolfe will be a strategic adviser to the company and will continue to serve on the board of MySpace China, according to the statement.
The announcement by DeWolfe and Jonathan Miller, the chief digital officer for News Corp., said the decision was by mutual agreement.
Separately, Miller said he was in discussions with Tom Anderson, MySpace's president and co-founder with DeWolfe, about Anderson taking on a new role in the organization.
"Chris and Tom are true pioneers, and we greatly value the tremendous job they've done in growing MySpace into what it is today," Miller said. "It is an enormously successful property and we look forward to building on its achievements with a new management structure we'll announce in the near future."
DeWolfe and Anderson founded the ground-breaking, social-networking Web site in 2003, which News Corp. purchased in 2005. In recent years, Facebook has surpassed MySpace in popularity.
"It's been one of the best experiences of my life, and we're proud of, and grateful to, the team of talented people who helped us along the way," DeWolfe said.
"From the very beginning, our driving passion has been simple: to create and foster a platform where people across the globe can not only meet and interact, but share music, videos, thoughts and ideas," Anderson said. "I love this business and look forward to its next chapter."
E-mail to a friend