LONDON, England (CNN) -- Royal Bank of Scotland has announced plans to cut up to 9,000 jobs in the next two years -- of which 4,500 will be in the UK.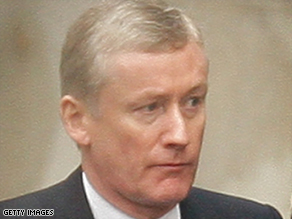 Fred Goodwin is apparently considering a voluntary reduction to his annual $933,000 pension.
The bank, of which the UK government bought a 70 percent stake after it posted a record loss for 2008 of £24.1 billion ($34.6 billion), is cutting the staff under plans to save £2.5 billion ($3.7 billion) over the next three years.
RBS added that the actual number of jobs lost was likely to be "significantly lower" due to natural turnover and voluntary redundancies.
RBS chief executive Stephen Hester said the job losses were needed to put the bank back on its feet "as soon as practicable."
"Unfortunately, that means taking difficult decisions about jobs as well as taking many other cost reduction actions.
"We want to be as open and transparent as possible and are announcing these plans at the earliest possible opportunity so that our employees can prepare for the future," he said.
The bank has already announced plans to cut 2,700 jobs this year and warned at its annual meeting last week that this was "not the end of the story."
Last week RBS chairman Philip Hampton made a strong apology for the bank's mistakes. In not so veiled comments he also laid the blame at the feet of Fred Goodwin, who retired after the government's multi-billion pound bailout last year.

Watch consternation at Goodwin's £16 million pension fund »
The size of Goodwin's pension -- estimated at £650,000 ($933,000) a year for life -- has provoked outrage but Hampton indicated that RBS's former boss was now considering taking a voluntary reduction.
Don't Miss
In a statement released ahead of the group's AGM Friday, Hampton said the "past was done" and could not be changed.
"Only a tiny minority of staff in RBS were in any way responsible for the major credit market losses we suffered in 2008. It is remarkable that there were only a few hundred people responsible in the relevant segments of our businesses chiefly in the financial centers of London, Amsterdam and New York, most of whom have now left the group.

"I don't think there can be any doubt that the key decision that led RBS to its difficulties was the acquisition of ABN AMRO (Goodwin led the nearly $90 billion purchase). That is the painful reality that we can now do nothing to change."
Hampton said the bank had been embarrassed by a series of stories but it was now time to move on.
E-mail to a friend

All About The Royal Bank of Scotland Group plc • Alistair Darling