(CNN) -- Shares on Wall Street surged higher Thursday, following a global market upswing amid renewed optimism as G-20 leaders in London agreed a deal on lifting the global economy out of crisis.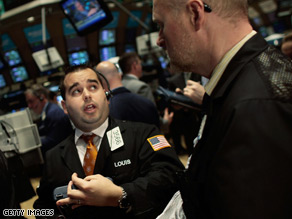 The advances mirrored U.S. stocks, which recharged Wednesday.
The Dow Jones Industrial Average rallied above 8,000 for the first time since February, lifted by a change in accounting regulations.
Although it closed below that level, the Dow was still up 2.8 percent according to early tallies. The Nasdaq and the S&P were up 3.3 and 2.9 percent respectively.
The major indices in Europe all saw significant rises. London's FTSE 100 finished up 4.28 percent while the Frankfurt Dax 30 was up 6.07 percent.
Asian and Pacific markets closed with solid gains Thursday. Tokyo's Nikkei average gained 4.4 percent while Australia's All Ordinaries index rose 2.7 percent and the KOSPI in Seoul was up 3.5 percent.
The Hang Seng in Hong Kong was up 6.9 percent in late afternoon trading.
In London, the G-20 summit concluded with an agreement promising tighter global financial regulations and an injection of $1 trillion dollars to lift the steer the world economy away from recession.
April can be a tricky month for Wall Street. It's the Dow's best month of the year going back to 1950, according to the Stock Trader's Almanac, good for an average gain of 1.9 percent.
But in bear markets, April can be wretched. In April 2002, during the last bear market, the Dow lost 4.4 percent for its worst April since 1970.
Don't Miss
"I think we saw a significant low in early March," said John Wilson, chief technical strategist at Morgan Keegan. "That doesn't mean we're going straight up from here, but it does mean this run could end up being more than just another hideous bear market rally."
The Dow and S&P 500 briefly touched more than 12-year lows in early March, before bouncing back on optimism that the economy is closer to stabilizing.
Wilson said that the real test will come over the next few weeks as investors sort through the first-quarter results, which are expected to be pretty terrible.
Investors were gearing up for the start of the G-20 meeting in London on Thursday, which brings together leaders from the world's largest economies.
President Barack Obama is expected to make the push for a bigger global economic stimulus effort. He also plans to detail the new financial regulations pitched to Congress last week as a means of preventing another financial meltdown.
E-mail to a friend