By Peter Walker
For CNN





LONDON, England (CNN) -- If there is one business accessory which the economic downturn has pushed resolutely out of fashion, it is the private jet.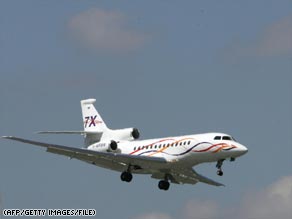 Private jets may be luxury travel, but is there an economic case for companies having one?
Once an obligatory status symbol for top-ranking CEOs, in these straitened times the Gulfstream left idling at a nearby airfield is now considered gauche and showy, especially for companies in trouble.
One of the biggest business PR gaffes of recent years came in November when the bosses of the big three Detroit automakers arrived in Washington to beg for taxpayer handouts -- flying there on private jets.
But are we being too hasty? Even as companies tighten their belts, is there in fact an economic case for keeping hold of the corporate jet?
A recent article in the magazine Business Economics argued that at times it can even be cheaper to forgo scheduled air travel and take the private option.
While the traditional system of companies owning an individual jet, which spent most of the time parked in a hangar, the salaried pilot kicking his or her heels, is prohibitively expensive, the relatively recent innovation of fractional ownership has driven costs dramatically downwards.
The article's authors note that companies can easily spend more than $10,000 sending four or more executives on long-distance trips using first class scheduled flights. While the equivalent trip on a private, shared jet is still going to be more, the trip can nonetheless be more efficient when time factors are considered, especially if the journey is to somewhere served poorly by regular flights.
They attempt to measure the dramatic growth brought about by such cost savings, estimating that by 2007 there were more than 17 million private jet passenger trips within the U.S., about 40 percent of the total number of scheduled seats using first, business or full-fare standard class tickets, the usual options for business travelers.
Despite the downturn, the article predicts that the use of private jets in the U.S. will actually increase further, only reaching a peak at some point this year.
One recent business school graduate has profited handsomely from this phenomenon.
Ryan Stone came up with the idea for his joint-ownership private jet company while taking an entrepreneurship class at the University of North Carolina's Kenan-Flagler business school, which he left with an MBA five years ago.
After finishing at the school he teamed up with two friends, a private jet pilot and a former military test pilot, to set up Jetpool. Stone argues that even in the current climate, private jet travel can be the sensible option.
Fact Box
FT MBA Rankings
1= London Business School, U.K.
1= Wharton, U.S.
3. Harvard, U.S.
4. Columbia, U.S.
5. Insead, France/Singapore
6. Stanford GSB, U.S.
6= IE Business School, Spain
8. Ceibs, China
9. MIT Sloan, U.S.
10. NYU, Stern, U.S.
Source: Financial Times 2009

"A private jet can be a way to tighten the belt, if it is done properly," he said. "You have to do the analysis. In many cases, the results would surprise people."

One of the ways the company has responded to the economic situation is through the use of cheaper jets like the small Brazilian-made Embraer Phenom 100, meaning some charters can cost as little as $1,900 per hour.

"With everyone trying to get more business, your time is more valuable than ever," Stone said. "The average business trip is taken by fewer than three people and under 500 miles. This jet hits that sweet spot of the average mission for most companies."

And if you need more convincing, why not look back to the last period when the stock market suffered, the post-tech bubble period around 2001, and the advice given then by investment guru and billionaire Warren Buffett.

On a visit to London that year Buffet, sage as ever, predicted a big growth in private plane use. "I've been buying more planes than shares," he said.

E-mail to a friend