By Kyung Lah
CNN





TOKYO, Japan (CNN) -- For more than 80 years, the Sekine Kimono Shop has sat in a corner of Tokyo's high-end fashion district -- surviving the Great Depression and World War II. But this latest recession may be the global event that finally shuts it doors.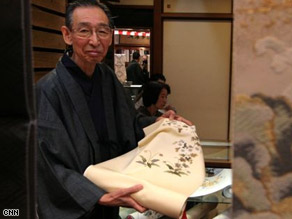 Tatsuo Sekine says fewer new customers come to his custom-made kimono shop in Tokyo these days.
"We have to survive by getting new customers, says owner Tatsuo Sekine. "But very few new customers come in now."
Those customers, Sekine said, are balking at the high price of his kimonos, which cost upward of US$10,000 each. And that's before you accessorize with the US$300 shoes, $200 silk purse and $2000 obi, the belt used to tie the kimono.
It's a high price at any time, but especially in this recession.
There's a reason for the high price tag, Tatsuo Sekine explained. The very picture of the traditional kimono shop owner, Sekine enjoys holding up his fine Japanese silk fabrics and, like a patient history teacher, explain to customers how 23 Japanese craftsmen sew the designs in the traditional ways. Each of the intricate kimonos is made to order and results in something more than just a daily outfit. It's a connection to the history of Japan.
"We're trying so hard," said Fumiko Sekine, who runs the shop with her husband. "But Western clothes are easy to wear. Kimonos may not catch up with the speed of how young people live."
Tobu Department Store, sensing the shifting economic tide, has opened a new section of its department store, featuring cheaper and updated kimonos. Tobu has shaved 90 percent off the price; what cost US$10,000, you can now get for US$1,000. The savings comes in a lower-quality silk and cutting out those 23 Japanese craftsmen. Instead, the kimonos are stitched together in Vietnam.
The result is a less intricate, less fine kimono. But in this recession, the department store is betting customers would rather save money and discard a few fine details.
"In any situation, we try to come up with fresh ideas to adjust to the situation," said Tobu employee Kayo Kurihara.

The Sekines say those kimonos don't reflect Japan's craftsmanship or detail the artistry the kimono was created to celebrate.
Sekine knows the times are changing. He still heads to the small shrine down the street and prays every day for a turnaround in the economy. It's his hope that an economic turnaround will mean the continuation of the traditional kimono and an entire industry that's struggling to survive.
E-mail to a friend