(CNN) -- U.S. stocks pulled back Tuesday as investors showed caution the day after Wall Street posted one of its best sessions in months.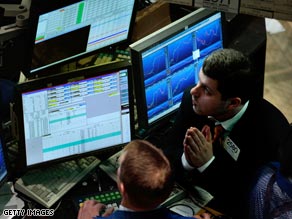 A trader watches the market moves on the floor of the New York Stock Exchange.
The Dow Jones industrial average lost 1.1 percent while the S&P 500 index of leading shares lost 1.4%. The Nasdaq composite lost 1.8%.
Stocks surged Monday, with the Dow and Nasdaq each gaining 6.8 percent and the S&P 500 rising 7.1 percent on the U.S. Treasury's plan to buy billions in bad bank assets and a surprise rise in existing home sales.
This spurred Asian markets solidly into positive territory on Tuesday.
In Asia, Tokyo's Nikkei average picked up 3.3 percent, and Australia's All Ordinaries index closed 1 percent higher. In Seoul, the KOSPI gained 1.9 percent, while Hong Kong's Hang Seng index picked up nearly 3 percent.
But in Europe investors were also cautious. Paris and Frankfurt were up by a fraction of 1 percent by 1600 GMT while London was down slightly.
"I think the stock reaction is a vote of confidence in the plan," said Jack Ablin, chief investment officer at Harris Private Bank.
He said the stock market was also reacting well because the plan is skewed in favor of the private investor, who has to be responsible for only about 7 percent of the total in any transaction.
But other analysts were less sanguine.
"The plan is a rehash of what we've seen before and it still doesn't resolve the issue of how to value the bad assets," said Stephen Leeb, president of Leeb Capital Management.
Don't Miss
"There's a lot of cash on the sidelines. There's a real wish to believe that this is a solution. And there has been some good news on the economy lately," he said. "All of that is contributing to a rally as well."
Stocks have gained for the past two weeks, despite tumbling last Thursday and Friday. But that retreat gave investors an opportunity to jump back in Monday, with bank shares leading the advance.
Since tumbling to 12-year lows two weeks ago, the S&P 500 has now rallied 18 percent as of Monday's close, blasting through 800, a key resistance level that analysts have been watching.
Tuesday brought more key economic news from Washington. President Barack Obama was due to deliver a televised address during prime time, while Federal Reserve Chairman Ben Bernanke and Treasury Secretary Tim Geithner testified at a House Financial Services Committee hearing on AIG.
Venting their own frustration about huge bonuses paid to company executives, they told Congress the government had no choice but to effectively seize control of the troubled insurer last September.
They called on Congress to reorder how companies such as AIG are regulated to prevent a similar collapse in the future.
"AIG highlights broad failures of our financial system," Geithner said.
"Compensation practices encouraged risk-taking and rewarded short-term profits. ... The U.S. government does not have the legal means today to manage the orderly restructuring of a large, complex, non-bank financial institution."
In an op-ed piece that ran in 31 newspapers around the globe Obama wrote that there was an urgent need for worldwide economic cooperation.
Obama's move comes ahead of next week's Group of 20 meeting in London, England, in which leaders of the world's richest nations will discuss the global economic downturn.
"My message is clear," Obama wrote. "The United States is ready to lead, and we call upon our partners to join us with a sense of urgency and common purpose. Much good work has been done, but much more remains."
A large part of Monday's rally was fueled as the Treasury rolled out its long-awaited plan to purge bank balance sheets of as much as $1 trillion in sour assets that are limiting lending and prolonging the recession.
The government will commit $75 billion to $100 billion of taxpayer money to launch the Public-Private Investment Program, which seeks to create a market for that bad debt.

Watch Obama explain the plan on his 63rd day in office »
The government plans to run auctions between the banks looking to unload the bad assets -- such as subprime mortgages -- and the investors looking to buy them. The Federal Reserve and the Federal Deposit Insurance Corporation will be involved.

Economists have said stabilizing the banking system was key to stabilizing the economy.
Also boosting Wall Street were existing home sales, which rose 5.1 percent in February, according to the National Association of Realtors. Economists surveyed by Briefing.com had expected sales to dip.
E-mail to a friend

All About Financial Markets • Wall Street • Asia-Pacific Markets