LONDON, England (CNN) -- Top executives of leading international banks were meeting the British prime minister and treasury chief Tuesday to discuss kick-starting the global financial system ahead of next month's G20 summit.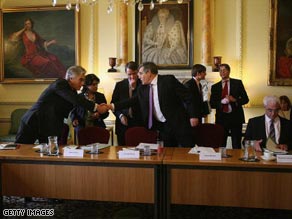 British Prime Minister Gordon Brown meets international bank chiefs.
About a dozen representatives of U.S., Japanese, German and South African banks were at Downing Street to meet with Prime Minister Gordon Brown and Chancellor Alistair Darling, a spokesman for the Treasury said.
They planned to discuss getting banks to lend again, what to do with toxic assets and regulatory reform, a Treasury spokesman said.
They also planned to discuss the agenda of the G20 summit April 2, with Brown and Darling surveying the views and priorities of bankers ahead of the meeting, the spokesman said.
The Treasury did not release an official list of attendees at Tuesday's summit.
London plays host next week to the G20 summit, which will bring together heads of state, financial chiefs and central bank governors of the G20 nations.
The G20 represents the world's 19 largest economies plus the European Union, and together, G20 countries provide 85 percent of the world's economic output.
After Tuesday's meeting, Brown planned to address the European Parliament in Strasbourg, France, to discuss the agenda for the summit, Downing Street said.
E-mail to a friend