LONDON, England (CNN) -- Banking shares in Europe and the U.S. staged a major rally Monday amid signs that investor confidence appeared is returning to the beleaguered financial sector.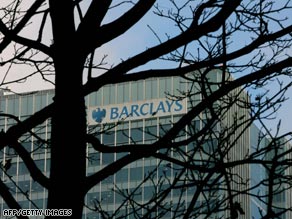 Barclays shares ended the day up 22 percent.
Shares in Barclays were up more than 22 percent at almost 91 pence by the close on the London FTSE 100 after the British bank confirmed it was in discussions over the possible sale of its iShares division as it seeks to bolster its capital base.
But Barclays added: "No decision regarding the disposal of any business has been taken by the board of Barclays." UK press reports over the weekend suggested the sale of iShares could raise up to £5 billion ($7 billion) for the bank.
The bank also said it had held talks with the UK financial authorities over participating in the government's asset protection scheme and added that it had enjoyed a "strong start" to 2009.
Meanwhile, Citigroup shares were up 32 percent at more than $2 in early afternoon trading in New York as the American bank continued to make gains on the back of its announcement that the first two months of 2009 had been profitable. Earlier this month the bank's stocks slipped below $1.
Bank of America was also up more than 13 percent as investors responded positively to Federal Reserve Chairman Ben Bernanke's prediction Sunday that the recession in the U.S. would probably end this year.
"There is a general relief that these banks are not in an endless tailspin," Marshall Front, chairman of Chicago-based money management firm Front Barnett Associates, told CNNMoney.com. "People are now looking for opportunities instead of running from risk."
E-mail to a friend