(CNN) -- Japan's economy shrank more than 12 percent during the final three months of 2008, the government said on Thursday.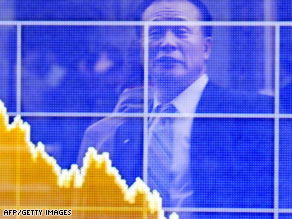 A businessman stares at a board showing share prices in Tokyo on Wednesday.
The dismal numbers are the latest sign of how severely the global economic downturn has affected the world's second-largest economy.
Japan's gross domestic product (GDP) contracted at an annualized rate of 12.1 percent during October, November and December, according to figures from Japan's Cabinet Office.
Though still considered a severe contraction, Thursday's figure was better than the government's preliminary estimate of 12.7 percent. Fourth-quarter GDP shrank 3.2 percent compared with the quarter before.
"Revisions to Japan's preliminary GDP releases are very much the norm," said Kirby Daley, senior strategist for the Newedge Group. "While we have grown accustomed to downward revisions, today's slightly positive adjustment does not foreshadow any positivity for the Japanese economy.
"The numbers are still horrible and reflect the very difficult situation that Japan faces, namely an absolute disappearance of global demand for Japan's products, and a standstill in domestic demand," Daley added.

"Japan's government and the BOJ (Bank of Japan), while frantically trying to assist, are largely helpless to alter the course of this economy in any sustainable way. It will continue to deteriorate for some time."
Japan's economy relies heavily on exports such as cars and electronics. Japanese companies such as Honda, Toyota, NEC and Hitachi have laid off thousands in recent months as profits have slumped because of slowing consumer demand in the United States and Europe.
E-mail to a friend

All About Japan • Japanese Economy