By Peter Walker
For CNN





LONDON, England (CNN) -- Business schools are not supposed to produced mere highly-trained automatons, inducted into the latest finance and marketing models. They are intended to produce leaders.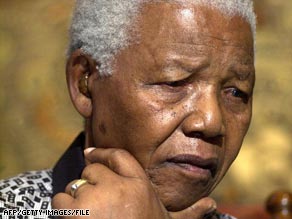 The art of leadership: Nelson Mandela, the former South African president
Amid the current global finance crisis, some critics have questioned whether all schools have performed this role correctly, and if some of the graduates leaving MBA programs for, say, the banking world had been taught theory at the expense of initiative and foresight.
Many dispute this: Mauro F Guillen, a professor of management at one of the world's top schools, the University of Pennsylvania's Wharton school, points to wider structural failures within corporations.
"It's very easy for me to say in hindsight, 'I wish I'd emphasized the idea that leadership and compensation systems can produce these perverse and negative effects'," he said. "But I don't think this has been an ethical issue. The problem was people were on auto-pilot, taking on enormous risks to meet certain targets."
Nonetheless, leadership is at the top of agenda for many business schools in both the U.S. and further afield.
Later this month, the U.K.'s Saïd business school, part of the University of Oxford, will hold the latest installment in its so-called High Performance Leadership Program.
This will bring in a series of top managers from the corporate world, as well as from smaller firms and government agencies, and lead them through a fundamental re-assessment of the leadership techniques.
Professor Tim Morris, who heads the program and has studied the way leaders help or hinder innovation within their organization, says he is doubtful about the notion of the "heroic" leader, a charismatic, totemic figure who pulls subordinates along in his or her all-powerful wake.
"Leadership is about creating the conditions for others to succeed," he said. "It's about understanding the situation and what motivates and inspires in that situation."
Those involved in the program bring their individual leadership issues with them, everything from massively expanding a business to -- more common amid current circumstances -- coping with tougher trading conditions or pushing through restructuring or reforms.
They are taught the latest management techniques, as learned from other organizations. But there is also a more personal aspect: A range of pre-program psychometric tests to assess what type of leader each participant is, and how they can improve.
Fact Box
FT MBA Rankings
1= London Business School, U.K.
2= Wharton, U.S.
3. Harvard, U.S.
4. Columbia, U.S.
5. Insead, France/Singapore
6= Stanford GSB, U.S.
6= IE Business School, Spain
8. Ceibs, China 
9. MIT Sloan, U.S.
10. NYU, Stern, U.S.
Source: Financial Times 2009

One executive who took part in an early session says he found it provided "practical and pragmatic tools" to work with.

"What you will learn about team leading on the program is that very few leaders have all the gifts and talents themselves," said Justin Fox, head of government markets for Nationwide, a leading U.K mortgage lender and mutual savings group.

"What many of the great ones do have, is a self awareness of what talents they do have, and the self confidence and security to surround themselves with others who can complement them, and compensate for their own lack of skills."

The Saïd event also involves leaders from the non-profit and charity world. A more specialist event is currently taking place at a top U.S. school, the Arizona-based Thunderbird.

The week-long Social Sector Leadership Program is intended purely for executives from charities, non-governmental organizations and government departments.

E-mail to a friend