(CNN) -- European aerospace group EADS has announced "satisfying" results for 2008, posting a net profit of €1.572 billion ($1.987 billion), despite the economic downturn.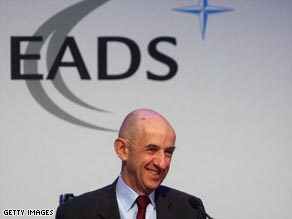 EADS CEO Louis Gallois announces the 2008 results during a press conference in Munich.
In a statement on its Web site, the company revealed earnings before interest and taxes (EBIT) for the period amounted to €2.8 billion ($3.55 billion). This compared to a €446 million net loss in 2007.
The Munich and Paris-based company attributed the results to its excellent underlying performance and significant positive foreign currency effects.
"We made significant headway in reshaping the company," Louis Gallois, chief executive of EADS, said.
EADS, which owns plane maker Airbus, added that it was in good shape to face the current economic crisis, although it warned the Group is facing "a low level of visibility for the second half of 2009 and beyond due to the global economy and financial market weakness which is increasingly impacting air traffic."
The Group achieved high levels of deliveries in 2008: Airbus handed over 483 aircraft to its customers -- more than ever before. It said this included 12 A380s -- the world's largest passenger jet. Eurocopter also achieved a new record, delivering 588 helicopters.
However, the company admitted that the new A400M military transport aircraft has been beset with technical problems, forcing it to delay its first flight.
With orders for around 200 aircraft, the project is already two years behind schedule and leaves the company facing expensive penalty clauses.
E-mail to a friend