(CNN) -- A bleak U.S. jobs report cast its huge cloud over trading Friday on both sides of the Atlantic.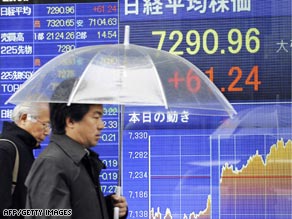 Tokyo's Nikkei average closed down 3.5 percent.
Although there were spots of good news, the bad news again dominated.
The U.S. economy continued to hemorrhage jobs in February, bringing total job losses over the last six months to more than 3.3 million, and taking the unemployment rate to its highest level in 25 years.
Employers cut 651,000 jobs from their payrolls in February, roughly in line with forecasts for cuts of 650,000, the government reported. January's losses were revised higher to 655,000. December's losses were revised up to 681,000, the most in any month since 1949.
The White House said the job losses show there is a long way to go before the economy recovers.
Despite closing the day higher than it did Thursday, New York's blue chip Dow Jones lost nearly 6 percent week on week, and it's now down almost 25 percent so far this year.
It was the fourth straight weekly loss, and the eighth in the nine weeks of 2008.
The S&P 500 closed 0.2 up but again that was on a week of slides that saw the index plummet below 700 for the first time in 12 years. The Nasdaq, meanwhile closed down about 0.35 percent.
Don't Miss
In Europe, major indexes in Germany, France, Holland and Switzerland closed lower. London's FTSE 100 did manage to end the day slightly up.
Asian markets slumped Friday, latching on to Wall Street's bear market slide from Thursday to levels not seen since 1997.
Tokyo's Nikkei average closed down 3.5 percent and the All Ordinaries index in Australia tumbled 1.2 percent. In Seoul, the KOSPI fell 0.3 percent, while Hong Kong's Hang Seng index dropped 2.4 percent.

Stocks have been sliding on and off since peaking in October 2007 amid the housing and credit market collapse and the onset of the recession, which technically began in December 2007.
But the declines have picked up the pace year-to-date in response to growing pessimism about the economy.
E-mail to a friend