By Peter Walker
For CNN





LONDON, England (CNN) -- Most of the coverage of business schools focuses on MBAs, with perhaps the odd bit of attention for Executive MBAs, both of which are aimed at would-be top executives with some real world experience under their belts.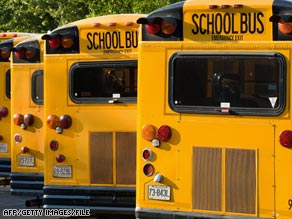 Straight from school: Undergraduate programs are increasingly popular
But there is another way, and one which is becoming increasingly popular, particularly in the U.S. -- undergraduate business school degrees.
The boom in such programs is emphasized with the latest league table of undergraduate courses, newly released by Business Week magazine, which annually polls opinions and crunches statistics about more than 100 U.S. schools to produce what is generally considered the most authoritative survey of this particular sector.
The figures show that even amid the current economic slowdown, undergraduate courses can prove an ideal way for younger students to learn about business before plunging into the corporate world.
It is also, arguably, a more open field than MBAs, where a handful of top schools traditionally dominate the rankings. Many of these are in the undergraduate ranking as well, with familiar names like Wharton, Haas and Sloan featuring in the top 10. However, the number one spot is taken by the McIntire school at the University of Virginia, a public school charging annual fees of less than $10,000, around a quarter of those at some of the private institutions.
The report's authors, who received information from almost 25,000 students and around 200 corporate recruiters, note that given the current economic climate, value for money -- or "return on investment" to use a suitable business school-style term -- was a key factor in determining this year's rankings.
Overall, public universities performed better on this score than their private equivalents, averaging $5.98 in annual starting salary for every dollar paid per year in tuition fees. The equivalent rate for private schools was $1.87.
The top value-for-money school was, however, private, Brigham Young University's Marriott school, with an earnings-to-fees ratio of $12, helped by the bargain $4,110 annual fees paid by Mormon students, the vast majority of the intake.
Another key finding was that starting salaries for undergraduates, while understandably less than those commanded by their MBA equivalents, can be perfectly respectable, with the average at some top programs topping $60,000.
But that is, of course, if students can find a job, something likely to prove far more tricky for this year's graduates compared to those who left several years ago.
The survey found that as of January, 54 percent of the seniors who responded had not yet received a job offer, up from 44 percent last year.
Fact Box
FT MBA Rankings
1= London Business School, U.K.
2= Wharton, U.S.
3. Harvard, U.S.
4. Columbia, U.S.
5. Insead, France/Singapore
6= Stanford GSB, U.S.
6= IE Business School, Spain
8. Ceibs, China 
9. MIT Sloan, U.S.
10. NYU, Stern, U.S.
Source: Financial Times 2009

Again, it is thus no surprise to see that the top-rated schools generally had extremely good careers services -- all of those in the top 10 have a "job placement grade" of A or higher, most of them scoring an A+.

Despite the difficult economic climate, some schools nonetheless remain bullish.

M. A. Venkataramanan, chair of the undergraduate program at Indiana University's Kelley school, which was rated 20th in the latest table, said interest in the course remained strong.

"We've seen substantial increases in both the average SAT and ACT scores for students entering the Kelley School in the last four years," he said. "We've seen a 13-point increase in average SAT scores among all students in the last year and an 80-point increase in the last four years.

"For our recent graduates, the median salary is up 12 percent over the last two years and rose 4 percent last year despite a tough economy."

E-mail to a friend