(CNN) -- Facetime: Exclusive interview with Suzanne Mubarak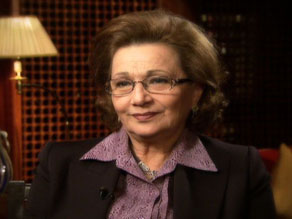 Egypt's First Lady campaigns for reconstruction in the Palestinian territories and against human trafficking.
She's the First Lady of Egypt and the founder of the Suzanne Mubarak Women's International Peace Movement. Suzanne Mubarak has long been an advocate for peace in the Arab-Israeli conflict.
In a rare and exclusive interview, she speaks to MME about what she believes is crucial in the re-construction of the Palestinian territories. She also speaks out against a cause that's close to her heart -- human trafficking in the Middle East.
In focus: Gaza reconstruction

This week, Egypt hosts an international donor conference on the reconstruction of Gaza. Despite past pledges of billions of dollars in aid, there is no reconstruction evident on the ground so far. Will the latest efforts make a difference? MME meets with the members of the business community in Gaza to find out.
Watch the show this week at the times (GMT) below:

Friday: 0915, 1945
Saturday: 0645
Sunday: 0815

E-mail to a friend