(CNN) -- The world's largest brewer, Anheuser-Busch InBev, announced Thursday that its fourth quarter profit plunged by 95 percent.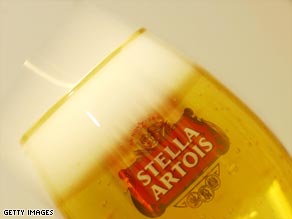 Anheuser-Busch InBev produces iconic beer brands including Stella, Becks and Budweiser.
The Belgium-based group, created in November by InBev's takeover of U.S. rival Anheuser-Busch, cited the cost of restructuring its business as the major factor in the slump.
In a press statement, AB InBev said its profits fell to €49 million ($61 million) from €900 million for the same period a year earlier. However, total revenues were up by 35 percent to €5.2 billion ($6.5 billion) from €3.9 billion.
The company said it would focus on reducing costs following last year's $52 billion deal.
AB InBev, which produces products including Budweiser and Stella Artois, has already shed around 2,400 jobs from its Anheuser-Busch operation in the United States.
Don't Miss
Further savings would be made by cutting another $500 million from U.S. operations this year and in reducing overall capital spending by $1 billion.
The company added that "as a result of missing targets in 2008, the CEO (Carlos Brito) and most members of our Executive Board of Management will not receive a bonus this year."
E-mail to a friend

All About Anheuser-Busch Companies Inc. • InBev NV