BERLIN, Germany (CNN) -- The German government is studying a proposal from Opel and its parent company, General Motors, to save the struggling carmaker with a huge cash injection and a cost-cutting plan.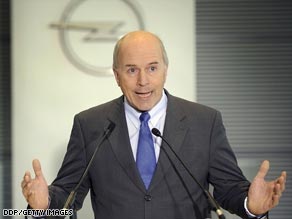 GM Europe CEO Carl-Peter Forster says Opel is in need of capital and has appealed to governments.
The proposal calls for GM to sell off a stake in its Opel unit, the core of its European operations, in order to win $4.18 billion (€3.3 billion) in government support from Germany and others in the region, said Andreas Kroemer, a spokesman for GM Europe.
Under the plan, GM would sell at least 25 percent of Opel and cut $1.2 billion in costs, Kroemer told CNN. GM will also inject $3.8 billion (€3 billion) into the company, GM said.
The German government said it would study the proposal and that it didn't have an answer yet, Kroemer said,
"Through the restructuring and using conservative market assumptions, GM Europe/Opel would become profitable by 2011," the company said in a statement.
GM's European division announced Friday that Opel will become an independent unit of the company. Opel would like to become fully independent of GM, but it will need taxpayer money to stay alive, GM Europe's Chief Executive Carl-Peter Forster said.

Watch why Opel wants GM to remain a shareholder »
The restructuring plan will allow Opel to maintain its own balance sheet and make its own decisions while GM keeps a stake in the company, Forster said.
Don't Miss
"The discussion with governments is being driven by the exceptionally weak economic situation that has seriously eroded consumer demand for vehicles and shut out the availability of credit for financing operations," Forster said in a statement. "We're moving to restructure our business with as minimal an impact on jobs as possible, but the reality is that we're in an exceptional economic situation and the issue of plant closings must be considered."
Forster said GM Europe would work with labor representatives as it restructures.
"It should be made clear that we need all three parts of the plan to be viable -- the structural cost reductions, government support and GM support," Forster said. "Anything short of this will not result in a viable operation."
GM currently sells more than half its vehicles outside of North America but is facing losses in all of those markets.
Saab, Opel and Vauxhall are all GM brands that employ about 55,000 people across Europe. GM reported a net loss of more than $30 billion for the past year -- including a $9.6 billion net loss in the fourth quarter, a period in which its sales plunged and it needed a federal bailout to avoid filing for bankruptcy.

GM also disclosed that it burned through $6.2 billion in cash during the last three months of the year. The company ended the quarter with cash of $14 billion.
If not for the $4 billion U.S. federal loan it received Dec. 31, GM's cash level would have fallen below the $11 billion to $14 billion in cash the company has said it needs to continue operations.
E-mail to a friend

All About Adam Opel AG • General Motors Corporation