LONDON, England (CNN) -- The embattled former RBS boss Fred Goodwin might want to consider leaving Britain until the media storm and outrage over his estimated £650,000-a-year ($933,000) pension has settled; it may have to be a very long break.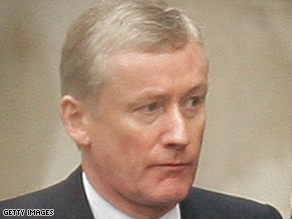 Fred Goodwin says he has already given up a number of his rights to appease angry politicians and investors.
On Thursday, the same day Royal Bank of Scotland announced a UK record loss of £24.1 billion ($34.6 billion) for 2008, it was revealed the 50-year-old Goodwin was receiving an annual pension of £650,000 ($933,000) for life.
He retired after the government's multi-billion pound bailout last year.
In an extraordinary sequence of events, Britain's Chancellor of the Exchequer Alistair Darling, head of the Treasury, urged Goodwin to give up his pension.
Goodwin responded angrily, saying he had already given up a number of contractual rights which had cost him a lot of money.

Watch consternation at Goodwin's £16 million pension fund »
Now, however, the British media are demanding action.
Under the headline "Shred Fred (Goodwin's nickname was Fred the Shred)," the Sun newspaper's editorial opened with: "Grasping banker Sir Fred Goodwin gives two fingers to us all."
The editorial's tone did not let up.
"He refuses to hand back a penny of the sickening £693,000-a-year pension he is plundering from taxpayers.
"While millions of pensioners struggle on a pittance, one of the idiots most to blame for ruining their retirements lives like a king on public money.
"This is not just obscene... it is outrageous, disgusting and scandalous. And it must be STOPPED (the Sun's capitalization)."
The Daily Mail's Alex Brummer was equally outraged, though laid some of the blame at the government's feet.
"The stubborn refusal of former RBS boss Sir Fred Goodwin to forgo his pension, despite being responsible for the worst corporate financial failure in Britain's history, is the ultimate example of the banking world's crass insensitivity to the public mood," Brummer wrote.
"His shameful behavior also reflects very badly on the government. If ministers had any real moral courage they would stand up to Goodwin and all those other good-for-nothing bankers and snatch back every penny of their bonuses.
"His pension is the final insult for the 20,000 RBS staff who will lose their jobs, for the shareholders who have been bled dry and for the rest of us whose taxes will have to clear up the mess."
The Daily Telegraph's Philip Johnston was filled with dismay.
"How can this possibly be justified and who agreed it? RBS will be in receipt of large amounts of taxpayers' cash for some time, so the hard-earned money of people whose own pensions have tanked because they were linked to the share value of Sir Fred's bank are now expected to keep him in the plutocratic style to which he has grown accustomed. It is grotesque."
The Guardian's editorial called for the "money men to pay their fair share."
"Sir Fred's super-size pension is the most egregious sign yet that this is not happening. The City minister has asked him to hand some of it back - but he has refused. Forcibly clawing back ill-gotten gains retrospectively is a tough thing to do in law, but it must be done somehow. Without public funds there would be no RBS to pay the pension, so taxpayers are right to conclude that it is their money that has filled his crock of gold."
The one dissenting voice was Daniel Finkelstein in the Times.
"First it is now a public policy requirement of the utmost importance that Sir Fred does not surrender any of his pension.

"What matters is that mob justice should not rule. The Government, having signed off on the arrangement, is now attempting to make itself look good by vilifying Sir Fred and trying to claw back his money. It is (and this is not a reaction I often have in politics) a truly nauseating sight."
Do you think Goodwin should stop drawing his pension? Tells us what you think on the soundoff below.
E-mail to a friend

All About The Royal Bank of Scotland Group plc • Alistair Darling