LONDON, England (CNN) -- The former chief executive of British bank RBS faced scrutiny over his million-dollar pension Thursday after the troubled bank announced a record loss of £24.1 billion ($34.6 billion) for 2008.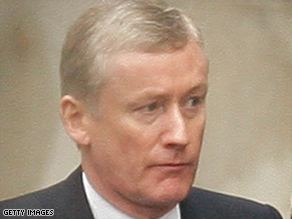 Fred Goodwin leaves parliament on February 10 after being quizzed by UK lawmakers.
Fred Goodwin, 50, retired from RBS after the company's government bailout last year. He receives an annual pension of £650,000 ($933,000).
After RBS announced its massive losses, British Chancellor of the Exchequer Alistair Darling, head of the Treasury, urged Goodwin to give up his pension.
"You cannot justify these excesses, especially when you have got such a failure of this magnitude," Darling told the BBC.
He said he sent a fellow minister to ask Goodwin to act on the issue.
"At my request, my ministerial colleague Lord Myners spoke to Sir Fred yesterday and put it to him quite simply: 'Look, in the circumstances in which this bank is now in, do you not think it right that you should forego this?' We have not had a reply."

Watch consternation at Goodwin's £16 million pension fund »
Current RBS Chairman Philip Hampton said Thursday he shares the public concern about Goodwin's pension. He said RBS is consulting with legal advisers about whether the pension can be reviewed, but he said Goodwin has a very strong legal contract and the pension arrangements were agreed to by shareholders.
Don't Miss

Hampton told reporters Thursday that he told Goodwin details of his pension would become public and asked him if he would consider taking a voluntary reduction in payments. Goodwin said he would think about it, Hampton said, and as of Thursday he was still considering it.
Goodwin received praise while at RBS and was knighted in 2004 for his services to banking. But since his departure from the bank, "Sir Fred" has instead become known as "Fred the Shred" and been blamed for the problems that led to its partial nationalization.
E-mail to a friend

-- CNN's Adrian Finighan contributed to this report.
All About The Royal Bank of Scotland Group plc • Alistair Darling