(CNN) -- A major rout on Wall Street carried over into Asia Tuesday as doubts over U.S. President Obama's plans to rescue ailing banks pushed markets to crisis lows.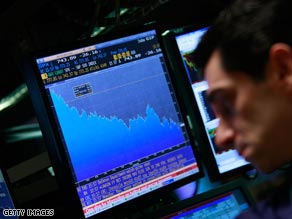 Wall St. key indices finished the day at lows not seen in nearly 12 years.
Share prices were down across the board in Asia, while Europe markets also opened lower after key U.S. indices tumbled to levels not seen in nearly 12 years.
The Dow Jones Industrial average lost 3.4 percent, ending at its weakest point since May 1997, while the S&P 500 hit its lowest since April of the same year.
In Tokyo, the Nikkei-225 at one point dropped beneath lows last seen in 1982, before regaining slightly to finish the day down 1.5 percent.
The sell-off continued across the region with Hong Kong's Hang Seng down 2.9 percent, Shanghai down 2 percent, Singapore down 2.2 percent and Seoul down 3.2 percent.
"It's fear-based selling," Dave Hinnenkamp CEO at KDV Wealth Management told CNNMoney.
"The fact that we're touching these multi-year lows tells you we don't know where the bottom of this thing is."
News that the U.S. government could increase its stake in troubled banking giant Citigroup to spare it from insolvency have helped assuage some market fears. Citi shares climbed nearly 10 percent.
But worries remain over the health of the U.S. financial and auto sectors and concern over whether the financial stimulus package will prove effective.
E-mail to a friend