Major markets slid Friday as investors became increasingly anxious over the state of the global economy.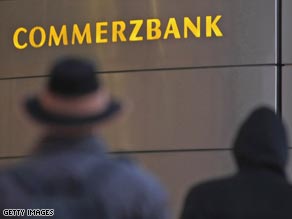 Commerzbank shares suffered in Germany.
The Dow Jones Industrial Average did manage to claw back some of the day's losses in New York but it still closed the week at a six-year low.
The Dow and the S&P 500 both came close to 11-year low in trading amid fears that some banks may be nationalized.
Bank of America, Citigroup, JPMorgan Chase and American Express all tumbled. Shares in ailing auto maker GM sank at one point to $1.52 -- last seen in July 1936.
The Dow eventually closed down about 1.3 percent and the S&P about 1.1 percent while the tech-heavy Nasdaq was only down slightly.
Robert Brusca, chief economist at Fact and Opinion Economics, said the European markets were down on weak manufacturing data, and Wall Street was following their lead, despite the $787 billion stimulus package that was signed by President Obama earlier this week.
"Never have so few spent so much and expected so little," said Brusca.
European stocks took a beating with mining and banking shares fell sharply with mining giant Anglo-American leading the losses.
Anglo-American's profit fell nearly 30 percent in 2008 and it has announced 19,000 job cuts this month in an attempt to fight deteriorating conditions.
London's FTSE 100 closed down about 3.2 percent. The CAC 40 in Paris was down about 4.25 percent.
Frankfurt's DAX 30 slid 4.75 percent -- dragged down by shares in Commerzbank.
Asian stocks tumbled to a close Friday, with Tokyo's Nikkei index down 1.9 percent and the Honk Kong's Hang Seng falling 2.5 percent.
Gold prices, meanwhile, hit $1,000 an ounce for the first time since last March.
Many investors view gold as a safe-haven because precious metals tend to hold value during times of economic duress.
E-mail to a friend