LONDON, England (CNN) -- Barclays Bank has published better than expected results for 2008, with pre-tax profits of £6.1 billion ($9 billion).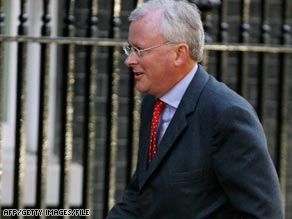 Barclays Chief Executive John Varley arrives for talks with the British prime minister in April 2008.
However the figures are down 14 per cent on last year's results once £5.4 billion of charges on bad debts and other credit are taken into account.
The bank, which did not take participate in the UK government's £37 billion bailout of the UK banking sector in October, also said it would not be issuing an end of year dividend to shareholders.
Barclays Chief Executive John Varley said the bank would continue to be hit by the downturn.
"Although we have been careful over recent years to avoid inappropriate risk concentration in our major loan books in retail and commercial banking, our plans for 2009 assume that impairment will continue to be at a high level," he said.
The bank also said it will not pay bonuses to executive directors for 2008, while for 2009 and beyond it would re-examine its policy to ensure it "evolved appropriately" as well as "appropriately benchmarked to changing best practice in the industry."
British lawmakers are angry at the possibility that bank bosses will hand themselves and their staff big bonuses for 2008 -- a year when some banks came close to collapse and the country fell into recession.
The complaint is particularly pointed at those banks that took part in the government bailout, but is also aimed at the industry in general.
Varley acknowledged that Barclays shareholders had been hit by the downturn and said he regretted that the total return on shares last year had been "heavily negative."
Don't Miss
The decision to not recommend the payment of a final dividend for 2008 was in part due to the increased capital requirements introduced by city watchdog the Financial Services Authority, he said.
He added the bank intended to recommence dividend payments during the second half of 2009.
Varley added that Barclays had been managed carefully through the downturn
He said: "Where we have had the opportunity to generate non-recurring profits, we have done so, including a gain on the acquisition of Lehman Brothers North American business, a gain on the acquisition of the Goldfish credit card business in the UK, gains on selling the UK Closed Life Fund and from the Visa IPO and sale of MasterCard shares.
"These items, combined with record income generation across the Group, have enabled us to absorb substantial writedowns on our credit market assets and still post substantial profits."
E-mail to a friend

All About Economic Issues • Financial Markets • Barclays plc • John Varley