TOKYO, Japan (CNN) -- Toyota announced Friday that its third-quarter revenues fell about 28 percent from a year ago, which means the auto giant will face an operating loss for the fiscal year.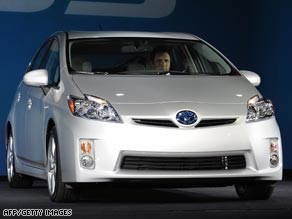 Toyota executives have warned investors to expect losses.
That news came a day after the automaker halted all but one of its Japanese assembly lines, a move that idled tens of thousands of workers across the country.
For the third quarter that ended December 31, the company mounted an operating loss of 164.7 billion yen ($1.8 billion).
"Both revenues and profits declined severely during this period, said Toyota Executive Vice President Mitsuo Kinoshita. "The negative results are largely due to lower vehicle sales volume under difficult market conditions."

Watch how times have changed for Toyota »
On Thursday, Toyota halted all but one assembly line in an effort to save money and jobs. Toyota, the world's largest automaker, plans 10 more such production breaks over the next two months.
For workers, the shutdowns and job losses are devastating.
Cecelia Kobashigawa came to the Toyota City job center with four friends. They're all in the same boat -- suddenly fired from a Toyota subsidiary due to the global economic slowdown.
Her eyes welled up as she told us about her 19 year old daughter and 15 year old son and how long they'd survive without her working. "It's so tough," she said, clutching handouts from the center on job leads.
Don't Miss
Unfortunately, the job leads are just not there, at least not in this one industry city that lives and dies by Toyota Motor Corporation.
The news went from bad to worse on Toyota's outlook for the fiscal year. Toyota revised its earnings forecast for the fiscal year ending in March 2009, to a loss three times larger than what it feared.
Toyota is forecasting a net loss of $4 billion and an operating loss of nearly $5 billion. It's the first time in Toyota's 71 year history that the company will record a net or operating loss for a fiscal year.
Toyota Executive Vice President Mitsuo Kinoshita says the company is thoroughly reviewing the entire business to reduce costs across the board, and hopes "to achieve further cost reduction and reduce fixed costs by 10%." Toyota did not reveal specifics on the cost reductions.
For Kobashigawa, she's not seeing any light at the end of the tunnel in Toyota City. The city of 400,000 is seeing historic levels of unemployment.
This area now has Japan's highest rate of unemployment. Under the handouts of her job leads, she also has a brochure for a training school. She's thinking of becoming a day care worker. She could use the joy of children in these tough economic times
Toyota's Japanese rivals, automakers Mitsubishi Motors and Mazda, also forecast financial losses for fiscal 2008.
The global financial crisis has forced many automakers to slash production, many by 30 percent or more.
On Wednesday, Mitsubishi said it expects a net loss of 60 billion yen ($670 million) when the business years wraps at the end of March. The company's global sales volume is down 17 percent compared with a year ago.
Mazda on Wednesday also predicted a net loss of 13 billion yen ($150 million). Its vehicle sales are down 9 percent.
Honda, Toyota's main Japanese rival, also anticipates weak financial results. In December, Honda reduced 2009 earnings estimates and cut its forecast for 2008, saying there was "no prospect for recovery" as auto sales and the economy continue to deteriorate.
E-mail to a friend

-- CNN's Kyung Lah and Pamela Boykoff contributed to this report.
All About Toyota Motor Corporation