From Alessio Vinci
CNN





ROME, Italy (CNN) -- The Italian government approved a stimulus package Friday that aims to encourage consumers to purchase durable goods, especially cars and trucks, but also household appliances and furniture.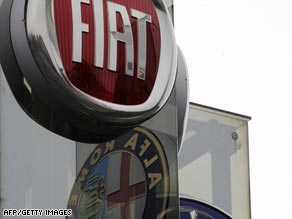 The plan provides consumers with an incentive of 1,500 euros ($1,930) to exchange older car models for new ones. The consumers' cars must be at least 10 years old.
If the consumer purchases a hybrid car or one that runs on natural gas, the cash incentive is doubled.
The package also guarantees incentives of 500 euros ($644) for people buying a new motorcycle.
In return for approving the plan, Prime Minister Silvio Berlusconi said the government had demanded manufacturers maintain their plants in Italy.
The car industry has registered a drop in sales of more than 32 percent compared with last year, and Fiat, Italy's largest private employer and car factory, has already put thousands of workers on forced leave and reduced pay. Many of its plants in Italy function only a few weeks each month.
The stimulus package, worth more than 2 billion euros ($2.5 billion), is aimed at replacing a portion of an estimated 15 million vehicles in Italy that are at least a decade old.
It has one of the highest number of old cars in Europe.
Don't Miss
Additionally, small business buying or exchanging small delivery trucks can count on incentives of up to 2,500 euros ($ 3,211) for the purchase of a new vehicle, or 4,000 euros ($5,137) if the truck is hybrid or working on natural gas. Consumers will have until the end of 2009 to take advantage of the incentives.
Berlusconi said the incentives are in line with measures discussed and adopted by other European Union members in January, and are aimed also at increasing safety on Italian roads.
They also help promote research and developments for those companies producing engines and equipment which create less pollution.
Italy's car industry accounts for roughly 11.4 percent of the country's gross domestic product, and it employs about 1 million workers directly and indirectly.
Thanks to expected sales increases, Berlusconi said, the government hopes to collect additional taxes worth between 1 and 3 billion euros ($1.3 to 3.8 billion).
E-mail to a friend

All About Fiat SpA • Cars and Car Design • Italy