LONDON, England (CNN) -- With much of the world gripped by a crippling recession, rarely a day goes by without reports of another failed company or a round of redundancies.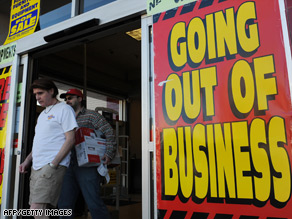 Businesses are having to thinking creatively to survive during the global economic crisis.
This gloom is underpinned by the crisis in the financial sector, where the world's largest banking, insurance and investment firms are scrambling to recover losses from bad investments and plunging stock values. As a result, the flow of credit to everyone from multi-national automakers to first-time home buyers has slowed to a trickle.
The ensuing "credit crunch" has created a ripple effect where consumers spend less, retailers suffer a drop in sales, while the parts maker who relies on the troubled automaker can no longer fill his order book.
So how can businesses survive the downturn?
In addition to cutting costs, consumers adapt their lifestyles to suit these leaner times. Similarly a company can change its "lifestyle" by diversifying its interests. For example, the aforementioned auto parts maker can recalibrate his machinery and retrain staff to produce products for other sectors that may not be as vulernable to the downturn.
During the economic crisis across Asia in 1997, Malaysian automotive parts maker AIC successfully diversified into the semiconductor manufacturing sector, giving the company a much needed profitable niche.
Don't Miss
At the top of the food chain, U.S. technology giant Apple has continued to raise the bar with its products. While it continues to enjoy healthy sales in the traditional but extremely competitive personal computer market, it has enjoyed particular success with its iPod MP3 player and the iPhone -- thanks to slick marketing. How is your company dealing with the recession?
However it is especially vital for small businesses without the financial muscle of Apple to be creative as possible with their business plan. Being flexible and adapting to changing consumer tastes, such as delivering greener products or selling online, goes a long way towards becoming more robust.
According to the Confederation of British Industry (CBI), innovation is essential for small businesses to survive in times of economic gloom. A report published by the CBI in July last year revealed that while it may feel safer for businesses to stick to what they know best, innovation and new ideas will ensure continued dynamism within a firm.
Richard Lambert, CBI director general, said: "successful innovation comes down to people, not just processes, and that trusting your customers and giving your ideas time to develop is vital.
"When you act, you must move fast and learn from your failures, but don't beat yourself - or others - up when things go wrong."
E-mail to a friend