GRIMSBY, England (CNN) -- Striking UK refinery workers voted unanimously Thursday to accept a deal to end more than a week of strikes, unions said.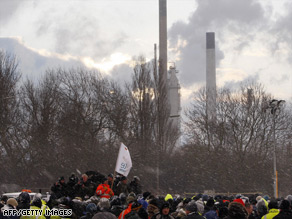 Striking workers stand in the shadow of the Lindsey refinery in eastern England.
The workers will stay off the job for the rest of this week to show solidarity with workers involved in related disputes across the country, unions said.
They will return to work Monday.
Workers at the Lindsey oil refinery in eastern England, the country's third-largest, walked out January 28 to protest the hiring of hundreds of foreign workers for a construction project at the plant.
After nearly an hour of deliberations Thursday under a large outdoor tent at the refinery, workers voted to accept a proposal from union leaders and companies that would see half of the jobs originally intended for the foreign subcontractors go instead to British workers.
Keith Gibson of the GMB union told CNN after the vote that 102 of the nearly-200 jobs will now go to British workers.
Another key proposal agreed on by members was for greater transparency with terms and conditions for outside contractors.
"We do need transparency," Gibson told CNN. "We want to make sure that whether it's Italian workers, French workers, Portuguese workers -- that they're getting the same rates and conditions" as British workers.
Weather in the area was dismal Thursday, with freezing temperatures and heavy snow.
Riot police on horseback were at the refinery Thursday as a precaution, but with the cold weather and lack of trouble, the officers were forced to parade the horses back and forth through the snow just to keep them warm.
Union leaders have been involved in three days of talks with oil giant Total, Jacobs, the main site contractor, and IREM, the Italian firm hired to carry out the project, in talks moderated by arbitration service ACAS.
The unions accuse Total of discriminating against British workers by subcontracting with IREM, which has hired workers from Italy and Portugal. Total rejects the allegation.
Don't Miss
On Wednesday, ACAS said in a written statement that a compromise between the parties would involve opening 101 new jobs to British workers.
But Stephen Hughes, a Labour legislator in the European Parliament, warned that the reported compromise could itself run afoul of European labor law, opening the way for foreign workers who lose out to British labor to claim they were being discriminated against on the basis of nationality.
Overall, the construction project has employed, directly or indirectly, 600 to 1,000 workers for about 18 months, Total said.
"It has never been, and never will be, the policy of Total to discriminate against British companies or British workers. We have been a major local employer for 40 years and the majority of our 500 permanent staff are local," the company said in a statement released Monday.
It added that IREM had won the sub-contract through a fair and legal bidding process.
ACAS will investigate the bidding process and report within weeks, it said Wednesday.
Hundreds of workers at British power plants and refineries have been walking off the job in unofficial "wildcat" strikes since the Lindsey workers put down their tools last Wednesday.
Spontaneous strikes took place Tuesday in every corner of the country: at the Stanlow oil refinery in western England, Drax power station in the northeast, Petroplus Coryton Refinery in the southeast and Longannet power station in Scotland.
A total of nearly 1,000 workers were off the job at the three English locations, while Scottish Power did not specify how many workers were on strike.
Representatives of all four plants said contractors, not full-time staff, had walked off the job, and all claimed operations were not affected.
E-mail to a friend

-- CNN's Atika Shubert and Ben Blake contributed to this report.
All About TOTAL SA • Oil Production and Refining